RCSI students host International Conference for Healthcare and Medical Students (ICHAMS)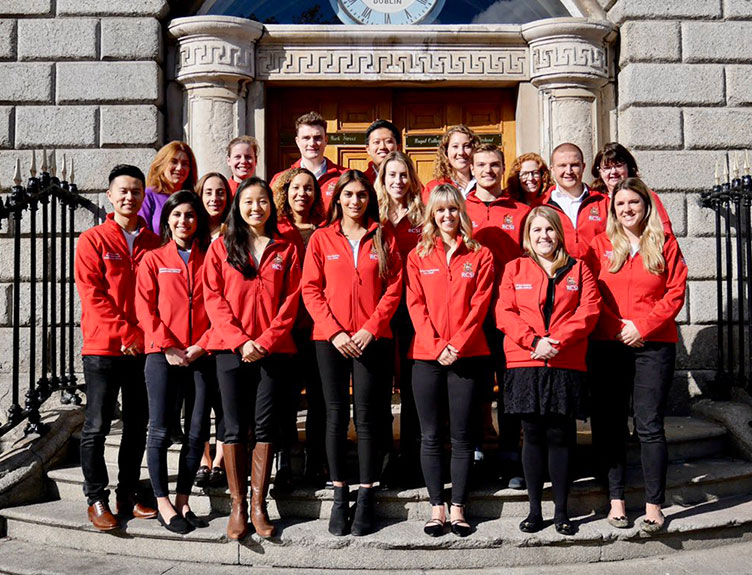 The International Conference for Healthcare and Medical Students (ICHAMS) conference is currently underway at RCSI and continues until Saturday, 23 February. ICHAMS is a conference for undergraduate healthcare and medical students to present their research to peers and educators in the field.
This year's conference welcomes more than 300 undergraduate healthcare students who will have the opportunity to present their research findings, publish abstracts in the BMC Proceedings, and connect with other students from all over the world. ICHAMS prides itself on providing young students with an opportunity to foster relationships with peers in a research-based setting.
Keynote speakers include Professor Arnold Hill, RCSI Chair of Surgery and Consultant General and Breast Surgeon, Dr Blánaid Hayes, Consultant in Occupational Medicine and lead investigator of the National Study of Wellbeing of Hospital Doctors in Ireland, Professor Karen Redmond, Consultant Cardiothoracic and Lung Transplant Surgeon in Dublin, and Dr Deirdre Duke, Consultant Radiologist.
The conference also offers numerous workshops, including obstetrics simulation, LQBTQ+ in healthcare, suturing skills, plaster/casting workshop, rapid ECG interpretation, ultrasound skills, intubation and chest drain practical skills, and general practice skills in RCSI's state-of-the-art training facilities at 26 York Street.
Dr Brona Murphy, RCSI faculty advisor, said: "Now in its eighth year, ICHAMS will welcome international delegates to Dublin where we hope this experience will students an insight into the world of scientific research. We look forward to this year's programme which will showcase the dedication and hard work of our student organising committee."
In addition to the academic programme, ICHAMS offers a full social programme including a walking tour of Dublin. The conference will conclude with a prize-giving ceremony, followed by a gala dinner on Saturday, 23 February.
For further information on the conference programme, visit ichams.org.
RCSI is ranked among the top 250 (top 2%) of universities worldwide in the Times Higher Education World University Rankings (2019) and its research is ranked first in Ireland for citations. It is an international not-for-profit health sciences institution, with its headquarters in Dublin, focused on education and research to drive improvements in human health worldwide. RCSI has been awarded Athena SWAN Bronze accreditation for positive gender practice in higher education.