Women on Walls at RCSI, in partnership with Accenture and Business to Arts, unveils landmark Irish portrait collection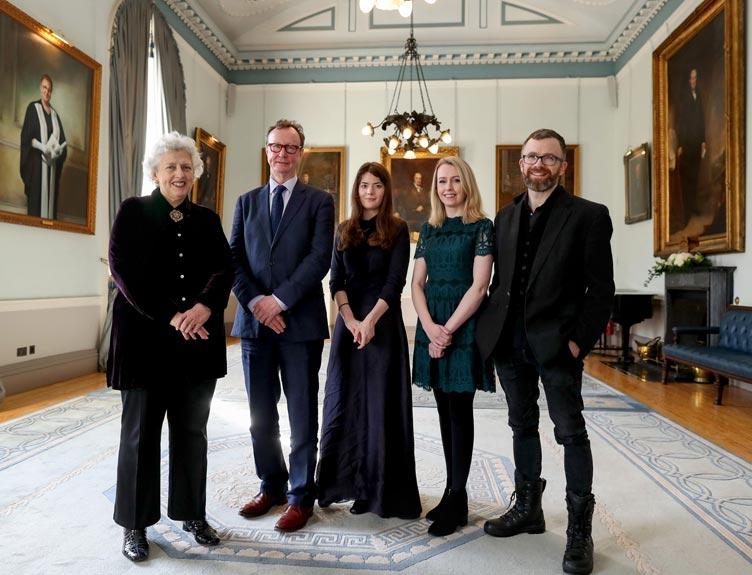 Today, RCSI, Accenture and Business to Arts unveiled a series of new portraits of historical female leaders in healthcare at RCSI. Women on Walls at RCSI in partnership with Accenture recognises the pioneering achievements of a group of eight extraordinary women and aims to enhance the visibility of historical female leaders in healthcare to inspire future generations.
The portraits were officially unveiled today by Minister for Higher Education Mary Mitchell O'Connor TD and RCSI President Mr Kenneth Mealy. They will now hang in the Board Room of RCSI's historic building on St Stephen's Green and can be seen at scheduled times throughout 2019.
Speaking at the unveiling of the portraits the Minister for Higher Education, Mary Mitchell O'Connor said: "Women on Walls recognises the pioneering achievements of eight extraordinary women and enhances the visibility of historical female leaders in healthcare. This project reminds us of remarkable women who are largely unknown outside their specialist fields. Eight women who were pioneers in medicine and science. All eight shared a compassion and care for humanity which was as a result of their training as nurses and physicians at the RCSI. Throughout their careers they faced gender-based discrimination, refusals, obstacles and insults, however the persevered and achieved great things. It is a real honour to unveil their paintings here this afternoon."
In March 2018, artists were invited to submit a proposal to Business to Arts, project managers of the initiative. A selection committee identified six artists who were commissioned to paints the portraits. The group of artists have worked with RCSI archivists to research their subjects and complete the portraits.
The following artists have completed their commissions, creating a series of eight individual portraits:
| | |
| --- | --- |
| Commissioned artist* | Subject |
| Benita Stoney | Dr Margaret (Pearl) Dunlevy (1909 - 2002) |
| Catherine Creaney | Dr Barbara Maive Stokes (1922 - 2009) |
| Enda Griffin | Sr Dr Maura Lynch (1938 - 2017) |
| Mick O'Dea | Dr Emily Winifred Dickson (1866 - 1944) |
| Mick O'Dea | Dr Mary Somerville Parker Strangman (1872 - 1943) |
| Molly Judd | Dr Victoria Coffey (1911 - 1999) |
| Molly Judd | Dr Mary Josephine Hannan (1859 - 1936) |
| William Nathans | Dean Mary Frances Crowley (1906 - 1990) |
*Biographies of the artists and their subjects can be found below
Speaking ahead of the announcement, Professor Cathal Kelly, RCSI CEO said: "We are immensely proud to unveil these portraits of ground-breaking RCSI women today. These pioneers made significant contributions to education and healthcare here at RCSI, in Ireland and much further afield. We hope that by recognising them through this landmark initiative; we might inspire future generations of women and girls to pursue a career in healthcare and science.
"Each of these women had a profound impact and we want history to remember their legacy. It is our duty to help preserve their story and celebrate their achievements. It is right and proper that today they take their place not just on these storied walls of RCSI but also in the history of healthcare."
Dr Michelle D. Cullen, Managing Director and Head of Inclusion & Diversity, Accenture in Ireland added: "The contribution of women in society is too often invisible. Who we see on the walls, tells us about what we as a society value, about who is welcome, about who fits in. We set out on the journey of Women on Walls with the ambition of making women leaders visible to inspire future generations. It is truly moving to see these magnificent eight portraits being unveiled by RCSI today, reminding us of the impact these women had in healthcare."
Andrew Hetherington, Chief Executive, Business to Arts said: "The artists commissioned, have created a powerful series of work highlighting the importance of gender equality. The Women on Walls campaign is a strong example of how art helps to communicate an important message. These eight extraordinary women whose portraits will hang on the walls of RCSI for years to come, represent the exceptional achievements of RCSI graduates and Fellows past, present and future. We salute the achievements of the six artists."
A new Women on Walls podcast series was announced during the unveiling. The eight-part series celebrates the lives of these eight Irish women who forged careers in healthcare during a time in Ireland when women were expected to stay at home. The first episode features the impact that Dr Barbara Maive Stokes, a paediatrician and pioneering disability campaigner, had on Ireland as a tireless advocate for people with intellectual disabilities. Women on Walls is now available for download from Apple, Google and Spotify podcasts. A new episode will publish fortnightly.
RCSI is committed to promoting gender equality among staff and students for the advancement of the College's mission to educate, nurture and discover for the benefit of human health. RCSI has been awarded Athena SWAN Bronze accreditation for positive gender practice in higher education.
Women on Walls is a campaign that seeks to make women leaders visible through a series of commissioned portraits that will create a lasting cultural legacy for Ireland. Accenture's Women on Walls began in 2016 with the Royal Irish Academy which recognised the achievements of leading female academics and to inspire future generations.
You can read more about Women on Walls at RCSI in partnership with Accenture and find out more about scheduled tour times by visiting www.accenture.com/womenonwalls and women.rcsi.com
Selected artists
Benita Stoney
1 individual portrait of Dr Margaret (Pearl) Dunlevy (1909 - 2002)
Benita Stoney (b.1954) is an award-winning portrait artist based in Co. Mayo. Since graduating from Galway Mayo Institute of Technology in 2006, with a BA in Fine Art, she has exhibited widely in both Ireland and the UK. During her studies, portraiture came to dominate her practice. Stoney's work has been selected for the prestigious BP Portrait Award, National Portrait Gallery, London; for the Davy Portrait Award, Belfast and Dublin; and, most recently, for the Hennessy Portrait Prize Shortlist at the National Gallery of Ireland (2017). She won the Changing Faces Award (2011) at the Royal Society of Portrait Painters and the Jorgensen Fine Art Award (2007) at the Royal Hibernian Academy, where she has exhibited annually since 2004. Selected exhibitions include a solo exhibition Custom House Studios, Westport (2010), 'Emerging Artists', The Dock, Carrick on Shannon (2013) 'Pathways' at the Leinster Gallery, Dublin (2014), Mystery Portraits Gala, National Portrait Gallery, London (2014, 2017). Besides numerous private commissions, her work is held in the National Self Portrait Collection of Ireland, and in the collections of Mayo County Council, and Royal Holloway College, University of London.
Catherine Creaney
1 individual portrait of Dr Barbara Maive Stokes (1922 - 2009)
Catherine Creaney (b. 1978) is a Northern Irish self-taught artist working primarily in portraiture in the mediums of oil, pastel and pencil in a realist style. Her work focuses on subtle expressions and lighting to convey the inner world and story of the sitter. Creaney has exhibited throughout the UK, Ireland and Europe and has won multiple awards for her work including: The ESB Keating Award and Silver Medal for an outstanding art work at the 185th Royal Hibernian Academy Annual Exhibition and First Place in the Artist's Magazine All-Media Online Competition (2014). She has won The Drawing Prize and The Rowel Friers Perpetual Trophy at the Royal Ulster Academy's Annual Exhibition twice. She was shortlisted for the Hennessy Portrait Prize, Dublin (2016). She has been awarded the don niccolo d'ardia caracciolo award at the Royal Hibernian Annual Exhibition, Dublin, The Henri Roche Award and The People's Choice Award at The First International Pastel Exhibition, Rome (2017). Most recently she won the People's Choice Award at The Royal Ulster Academy, Belfast and the Portrait Prize at the National Open Art, London (2018).
Enda Griffin
1 individual portrait of Sr & Dr Maura Lynch (1938 - 2017)
Enda Griffin (b. 1974) is an established artist with over 15 years' experience of teaching art, craft and design, now studying at Masters level in socially engaged art with Limerick College of Art and Design. Based in Co. Clare, Griffin currently works in oil paint and dry media with a focus primarily on figurative painting. Griffin's work has been commissioned and exhibited consistently throughout Ireland and he has been short-listed for and won multiple awards including: Sky portrait artist of the year, Irish heat finalist (2014), Rose of Tralee portrait competition winner (2015), County Kildare Portrait Artist of the Year competition finalist and most recently Hibernian Club, Stephen's Green, Portrait Competition, Shortlisted (2017).
Mick O'Dea
2 individual portraits of Dr (Emily) Winifred Dickson (1866 - 1944) and Dr. Mary Somerville Parker Strangman (1872 - 1943)
Mick O' Dea (b. Co Clare 1958) studied at the National College of Art and Design, Ireland and the University of Massachusetts from 1976 to 1981. He later completed an MFA at Winchester School of Art Barcelona and Winchester in European Fine Art (1997). He has lectured at NCAD (1981-1999) in addition to Portlaoise Prison, Wheatfield Prison, The Michael Smurfit Graduate Business School, Trinity College Dublin, Falmouth College of Art, Canterbury Christ Church University, Lyme Academy of Fine Art Connecticut, and the National Gallery of Ireland in addition to numerous other third level institutions. He was appointed as the first School Principal of the recently reopened RHA School and Studios (2006-2011). He was elected ARHA in 1993, and in 1996 RHA and a member of Aosdána. In 2014 he was elected PRHA and was appointed to the Board of the National Gallery of Ireland. In 2014 he was made an Honorary member of the Royal Scottish Academy and in 2015 he was elected an Honorary Fellow of the Anatomical Society in Madelene College Cambridge. In 2016 he was appointed chair of the Stamp Design Advisory Committee and a member of the Philatelic Advisory Committee of An Post. O' Dea has exhibited and participated in residencies in Ireland and abroad. His most recent awards include The Ireland US Council/Irish Arts Review Portraiture Award and the Royal Ulster Academy Portraiture Award (2013).
Molly Judd
2 individual portraits of Dr Victoria Coffey (1911 - 1999) and Dr. Mary Josephine Hannan (1859 - 1936)
Molly Judd (b. 1991) is an Irish Representational painter who began her studies at the Florence Academy of Art in Italy. In 2011, Judd began an apprenticeship with world renowned painter Odd Nerdrum, studying at his Atelier in Norway and Paris (2011-2013). Judd's work has been exhibited extensively both nationally and internationally. She has received multiple awards for her work including: first place in the Mod Portrait Competition, Spain; the Hennessy Craig Scholarship and the Ireland-US council/Irish Arts Review Portrait Award at the RHA's Annual Exhibition. In 2018, Judd received an Honourable mention in the figurative category of the ARC salons 13th International Competition also winning first place in the graphite section of the Artist's Magazine All Media competition in the US.
William Nathans
1 individual portrait of Mary Frances Crowley (1906 - 1990)
William Nathans (b. 1981) is a classically trained painter working in the USA and abroad. He began his formal artistic career in New York completing a BFA degree at the School of Visual Arts, NYC and continued for an additional three years in Toronto, Canada at the Academy of Realist Art. Nathans works mainly in oil and dry media, basing his work on studying the subtle range of tones and hues found under atmospheric north light. His work attempts to document the people of his time questioning how the present and the past have shaped them. Notably, Nathans received a commission to paint the official portrait of Cardinal John Foley, Grand Master of the Knights of the Holy Sepulchre which hangs in Vatican City paving his noteworthy achievements in portraiture. Since his relocation from the USA to Ireland in 2013 Nathans has exhibited nationally, including RHA Annual Exhibition (2018). Notably, Nathans's most recent commission is the official portrait of the first woman Chief Justice of Ireland, Justice Susan Denham, which hangs in the Honorable Society of King's Inns.
Female portrait
Accomplishments
Dr Victoria Coffey (1911 – 1999)

Dr Victoria Coffey was one of the first female paediatricians in Ireland. After qualifying from RCSI, Coffey worked at the Meath and Coombe Hospitals before being appointed in 1943 as medical officer in charge of children at St Kevin's Hospital. During this period she developed her interest in the neglected field of congenital birth defects and began a distinguished publishing career. Appointed lecturer in Teratology at Trinity College, Coffey went on to conduct pioneering research on a range of subjects including metabolic disorders in the newborn and Sudden Infant Death Syndrome (SIDS).

In 1979 she was elected a Fellow of the Royal College of Physicians of Ireland and was also a founding member of their Faculty of Paediatrics. She was the first female recipient of RCSI's Distinguished Graduate Medal, first woman President of both the Irish Paediatric Association and the RCSI Postgraduates' Association, and President and founding member of the Irish and American Paediatric Society.

Dean Mary Frances Crowley (1906 – 1990)

Born in Wexford, Mary Frances Crowley undertook her professional training in Britain, earning her Registered Nurse Certificate in 1935. She returned to Ireland in 1941 to take up a senior position in Sir Patrick Dun's Hospital. In 1944, she was appointed Assistant Matron of the Royal Victoria Eye and Ear Hospital.

Immediately after the war, Crowley travelled to northern France as Matron of the Irish Red Cross Hospital at Saint-Lô (the hospital's storekeeper, interpreter and driver was Samuel Beckett, the future Nobel Laureate). For their work at Saint-Lô, Crowley and her staff were awarded the Medaille de la Reconnaisance Française. Crowley founded the Nursing Training School at the Eye and Ear and became Director of Nursing Studies. In 1974, her ambition of many years was realised with the establishment of a Faculty of Nursing at RCSI, the first of its kind in Ireland or Britain.

Dr (Emily) Winifred Dickson (1866 – 1944)

Dr Emily Winifred Dickson was the first female Fellow of RCSI. Born in Dungannon, Co. Tyrone, she began her studies at RCSI in 1887, two years after the College first admitted female students. Dickson enjoyed a distinguished academic career, winning a number of student medals and receiving her licence in 1891. She earned her MB (Bachelor of Medicine, first class honours, with an exhibition prize) from the Royal University of Ireland in 1893, the year she also earned her Fellowship of RCSI, a first for a woman in any college of surgeons in Ireland or Britain. She studied on a scholarship in Vienna and Berlin, and in 1894 on the opening of the Extern Department for Diseases of Women at the Richmond Hospital, Dublin, was appointed as its first gynaecologist; she also served as supernumerary assistant at the Coombe.

In 1896 Dickson was appointed examiner at RCSI, another first for women in Ireland or Britain. In later life, she worked in Britain as a medical health officer and general practitioner.

Dr Pearl Dunleavy (1909 – 2002)

Dr Margaret (Pearl) Dunlevy was an epidemiologist whose championing of immunisation served to eradicate tuberculosis in Ireland. Born in Donegal, Dunlevy received her licence from RCSI in 1932, coming first in her class. After several years training in Britain, including a period as a TB physician in Cardiff, Dunlevy earned a diploma in public health from UCD, again coming first in her class. She continued her research into TB as assistant medical officer in Dublin, at Crooksling Sanatorium and at St Ultan's Hospital for Infants, where she was member of the BCG committee (Bacillus Calmette–Guérin: a vaccine primarily used against tuberculosis). The success of Dunlevy's BCG pilot programme in Dublin led to its nationwide expansion, with further success.

In later years, Dunlevy published extensively and was a columnist for the Irish Medical Times. She was President of the RCSI Biological Society, President of the Irish Society for Medical Officers of Health and a Member and Fellow of the Royal College of Physicians of Ireland.

Dr Mary Josephine Hannan (1865 – 1935)

Dr Mary Josephine Hannan was the first woman both to train and to qualify at RCSI. Born in Dublin, she enrolled in 1886 (a year after women were first admitted) and received her licence in 1890. A short time later she travelled to India to work in several of Lady Dufferin's hospitals dedicated to female healthcare.

In 1896 she established herself as Cardiff's first practising female doctor. Subsequently, Hannan relocated to South Africa where she became a member of the General Committee of the South African Medical Congress. For many years she worked as a medical officer to native women and lectured in midwifery at the Victoria Maternity Hospital, Johannesburg.

A champion of women's rights, Hannan was a member of the Women's Enfranchisement League; on occasion she refused to pay taxes which applied to unmarried women but not unmarried men. She also founded the Girl Guide movement in Pretoria.

Sr and Dr Maura Lynch (1938 – 2017)

Sr Dr Maura Lynch was a surgeon who revolutionised obstetric fistula care in Uganda. Born in Youghal, Co. Cork, Lynch joined the Medical Missionaries of Mary aged 17 before studying medicine at UCD. She earned a diploma in obstetrics and gynaecology at the Royal College of Obstetricians and Gynaecologists, then studied tropical medicine and Portuguese in Lisbon so that her order could send her to Angola.

After nearly 20 years of clinical work in Angola, Lynch saw that the need for a specialist surgeon in the country was not being met. At the age of 47, Lynch undertook further study in Ireland and obtained the Fellowship of RCSI in 1985. After another two years in Angola, Lynch was reassigned to Uganda, where she would remain for the next thirty years. Lynch is credited with more than 1,000 repairs of vesicovaginal fistula, all the while raising funds and awareness of this disease of poverty.

Dr Barbara Maive Stokes (1922 – 2009)

Dr Barbara Maive Stokes was a paediatrician and pioneering disability campaigner. Born in London, Stokes studied medicine at Trinity College, Dublin, after which she trained as house physician at the Meath Hospital. She earned a certificate in public health from UCD in 1947 and hoped to become an epidemiologist, but the marriage bar prevented this as positions in that field were all within the public service.

Turning to paediatrics, Stokes was appointed assistant physician at St Ultan's Hospital; she also worked at the Royal City of Dublin Hospital, and in the 1950s was Senior Demonstrator in Pharmacy and Physiology at RCSI. Stokes first involvement with the association that would become St Michael's House, a community-based service for people with an intellectual disability, was as a part-time volunteer; later she managed the entire organisation. A tireless advocate, Stokes served on many boards, notably the National Rehabilitation Board and Inclusion Ireland.

Dr Mary Somerville Parker Strangman (1872 – 1943)

Dr Mary Somerville Parker Strangman was a doctor, suffragist and elected councillor. Born in Waterford, Strangman and her sister Lucia enrolled at RCSI in 1891, receiving their licences in 1896. After training and lecturing in Britain, Mary Strangman became the second woman to earn the fellowship of RCSI in 1902. Establishing a practice in Waterford, Strangman also volunteered at various local women's charities and published a number of research articles on alcoholism and morphine addiction. She was an active suffragist and served on the executive committee of the Irishwomen's Suffrage Federation (1911 - 1917).

As co-founder of the local branch of the Woman's National Health Association, Strangman worked to combat tuberculosis, the country's principal killer disease. Seeing the authorities' poor investment in sanitation, Strangman stood for election on a public health platform and was elected Waterford's first female councillor in 1912. Retiring from office in 1920, Strangman continued in general practice and as physician at Waterford County and City Infirmary.