Dr Beth Frates addresses RCSI MyHealth public lecture on the power of healthy habits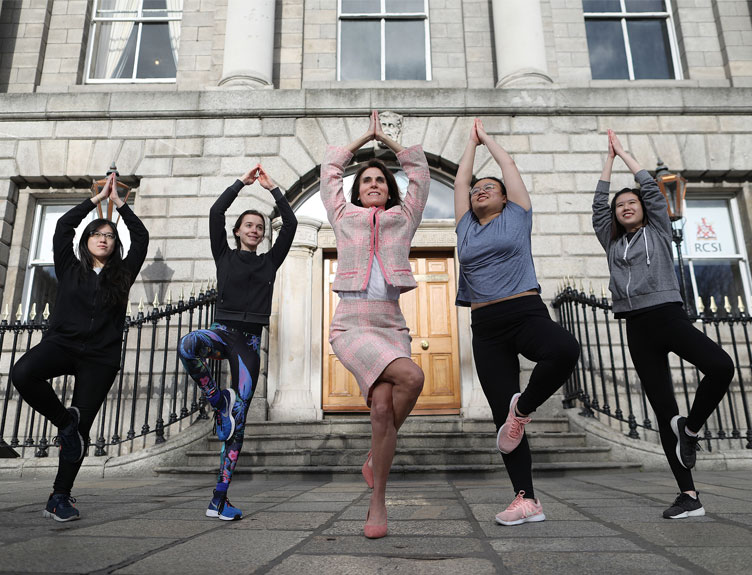 Adopting healthy habits empowers people to take control of their own wellness, according to lifestyle medicine pioneer Dr Beth Frates who addressed an RCSI MyHealth public lecture on Paving the Path to Wellness on Tuesday, 2 April.
Dr Frates is a pioneer in lifestyle medicine education and an award-winning teacher at Harvard University. She currently works with patients to help them adopt and sustain healthy habits, focusing on the core pillars of exercise, nutrition, sleep and stress management.
During the lecture, Dr Frates looked into how healthy habits are formed – drawing from her background in psychology and biology.
Dr Frates also discussed how she puts this advice in practice for stroke survivors. In addition to co-authoring a book titled Life After Stroke: The Guide to Recovering Your Health and Preventing Another Stroke, she has developed novel wellness programs for stroke survivors and their caregivers based on lifestyle medicine principles.
RCSI CEO Prof Cathal Kelly said: "Dr Frates' insights have given us all much to think about in terms of our ability to take ownership of our own health by adopting simple, healthy habits. As medical educators, Dr Frates has inspired us with a vision for the education of medical practitioners which equips them with an appreciation of the value of lifestyle medicine in helping patients to prevent chronic disease.
"We were delighted to welcome Dr Frates to RCSI for an RCSI MyHealth public lecture. Enhancing human health is core to RCSI's mission. As educators and researchers, it is our responsibility to use our expertise, knowledge and discoveries to foster improvements in health and education in our communities, our societies and around the world. The RCSI MyHealth public lecture series is a powerful platform for the College to support people to learn more about their health," added Prof. Kelly.
RCSI is ranked among the top 250 (top 2%) of universities worldwide in the Times Higher Education World University Rankings (2019) and its research is ranked first in Ireland for citations. It is an international not-for-profit health sciences institution, with its headquarters in Dublin, focused on education and research to drive improvements in human health worldwide. RCSI has been awarded Athena Swan Bronze accreditation for positive gender practice in higher education.