RCSI celebrates graduates at summer conferring ceremonies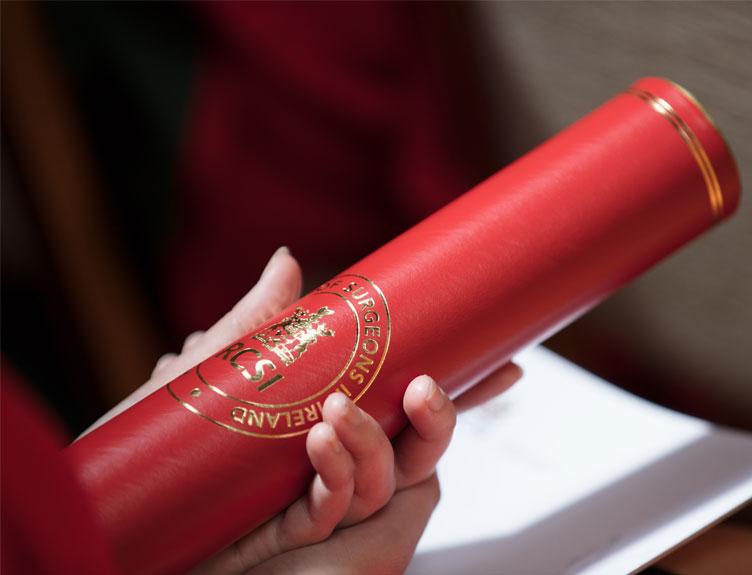 RCSI's 2019 summer conferring ceremonies commenced today with 62 candidates graduating at a conferring ceremony which took place at 123 St Stephen's Green.
Graduating from the School of Postgraduate Studies, there were seven Master of Science (MSc) by research candidates, three Doctor of Medicine (MD) graduates and 15 Doctor of Philosophy (PhD) graduates. The candidates have carried out cutting-edge studies in research areas including stroke prevention; drug development and population health. Eight medicine candidates also graduated today.
From the School of Pharmacy, seven candidates were conferred with degrees of Master of Pharmacy (MPharm) and nine candidates were conferred with degrees in Pharmacy (BSc Pharmacy).
Thirteen candidates were conferred with degrees of Master of Science (MSc) Physician Associate. RCSI is the first higher education institute in Ireland to offer an MSc in Physician Associate Studies and this is the second cohort to graduate.
An RCSI Honorary Doctorate was awarded to Professor Garret A. Fitzgerald, Professor of Medicine and Systems Pharmacology and Translational Therapeutics at Perelman School of Medicine, University of Pennsylvania at today's ceremony.
Prof. Hilary Humphreys, RCSI Professor of Clinical Microbiology and Consultant Microbiologist; and Prof. Noel G. McElvaney, RCSI Professor of Medicine and Consultant in Pulmonary and General Medicine were each awarded the NUI Degree of Doctor of Science (DSc) on Published Works. This is the highest qualification awarded by NUI and it signifies scholarship of international distinction.
Commenting on today's conferring ceremony, Professor Cathal Kelly, CEO/Registrar, RCSI said: "The summer conferring ceremonies are a celebration of our graduates' accomplishments as all of their years of hard work and dedication today come to fruition. I would like to wish them success in their careers as they continue on their exciting and varied career paths, all with the common goal of improving human health."
RCSI's School of Medicine Conferring Ceremony sees the largest number of doctors in Ireland graduate each year. Approximately 320 doctors will graduate at the ceremony, which will take place at The Convention Centre Dublin (CCD) on Tuesday, 4 June.
At the ceremony, Professor Dame Sally Davies will be awarded an Honorary Doctorate for her contribution as the Chief Medical Officer for England and Chief Medical Advisor to the UK Government.