RCSI Student Innovation Challenge concepts funded and launched by HRB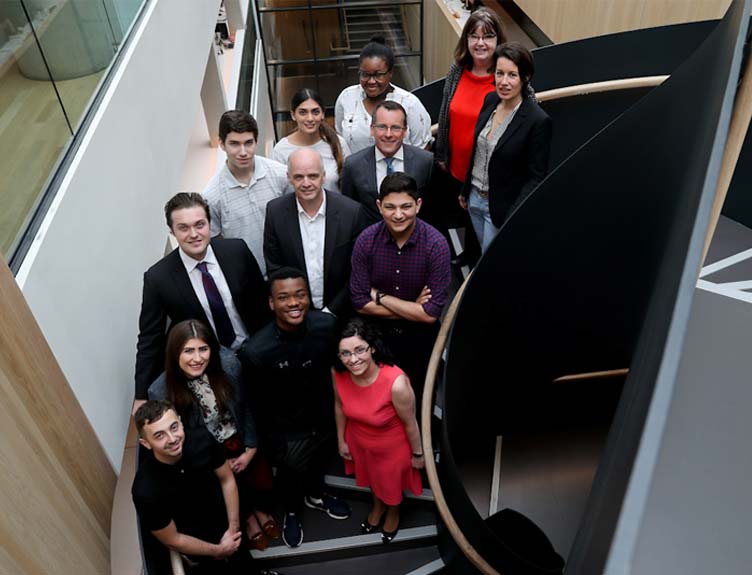 An RCSI Student Innovation Challenge concept was approved for funding and launched by the Health Research Board (HRB) earlier this week.
As part of the 2018 Student Innovation Challenge, RCSI Research Summer School (RSS) students were challenged to develop a cost-effective means of raising awareness among patients and clinicians of underlying bleeding disorders such as von Willebrand disease (VWD) in young adult females suffering from heavy menstrual bleeding.
Dr Michelle Lavin and Prof. James O'Donnell combined some of the proposed solutions with parallel plans to disseminate their research on VWD in Ireland into an application to the HRB's Knowledge Exchange and Dissemination (KEDS) programme.
Following international peer review, this application, entitled 'KEDS LoVIC-Kids: Improving public awareness of abnormal bleeding symptoms programme', was approved and launched by the CEO of HRB, Dr Darrin Morrissey.
Organised by the RSS and the RCSI Office of Research and Innovation, the annual RCSI Student Innovation Challenge provides students with the opportunity to develop ideas and innovations that have the potential to solve some of the biggest challenges in healthcare. Students responded with truly creative and innovative solutions, which were pitched to a panel of health innovation and venture capital judges.
"As heavy menstrual bleeding is a health issue that can be identified during teenage years, the input from students for campaign ideas to reach this cohort is hugely valuable as they are speaking to their peers," said Dr Michelle Lavin from RCSI's Department of Molecular and Cellular Therapeutics and the Clinical Lead for coagulation haematology research in Irish Centre for Vascular Biology (ICVB).
Dr Lavin added: "The Research Summer School and the Student Innovation Challenge provide unique platforms for academic researchers to engage with students and we are very excited to have them continue their involvement with this work as we roll out campaigns to health care practitioners and the public."
Speaking at the KEDS LoVIC-Kids launch, Dr Morrissey said: "This project is an exemplar of the type of projects the KEDS scheme aims to fund – bring research from the academic setting into everyday clinical practice and into the wider public domain through awareness campaigns. Our international reviewers particularly noted the value of student contributions to the proposal, and commended their role in designing campaigns to reach their peers."
Students attending the launch event were delighted to hear how their work fed into the funding proposal, seeing their work transition from the innovation challenge into real-world application.
"This challenge was really interesting as it demonstrated the importance of awareness around research knowledge and best practice, both for doctors meeting patients every day and for the public to know what is normal or not," said Aoife Reilly, a third-year Undergraduate medical student.
"It is inspiring to hear from Dr Morrissey and Dr Lavin how our ideas will soon be out there promoting this campaign, and I'm really looking forward to continuing my involvement," she added.
RCSI is ranked among the top 250 (top 2%) of universities worldwide in the Times Higher Education World University Rankings (2018), and its research is ranked first in Ireland for citations. It is an international not-for-profit health sciences institution, with its headquarters in Dublin, focused on education and research to drive improvements in human health worldwide. RCSI is a signatory of the Athena SWAN Charter.