Rugby legend Joe Schmidt awarded Honorary Fellowship from RCSI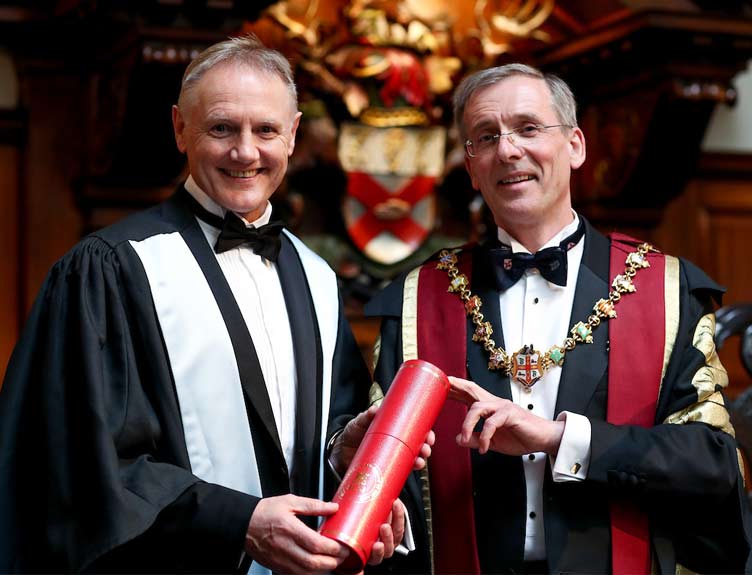 Renowned Irish rugby coach Joe Schmidt has been awarded an Honorary Fellowship of RCSI for his outstanding achievements as a coach, his representation of Ireland on the international stage and his advocacy of epilepsy services.
The Fellowship was conferred at a ceremony which took place at the College on St Stephen's Green last night.
The Honorary Fellowship of RCSI is the highest distinction the College bestows – recognising outstanding achievement in surgery and other areas.
Joe Schmidt joins the ranks of other non-surgeon RCSI Honorary Fellows, a list which includes Padraig Harrington, the late Mother Teresa of Calcutta, the late Nelson Mandela, Jimmy Carter and the late Seamus Heaney.
Speaking at the event, Mr Kenneth Mealy, President of RCSI said: "Joe Schmidt's sporting achievements have brought great credit to Ireland, and we applaud him for those achievements and for how he has continued to work hard, even at the height of his success.
"We admire Joe greatly for his dedication to his craft and his attention to physical and mental fitness as well as to the technical aspects of the game. He is a great coach who conducts himself with great dignity, and his leadership skills on the field are those to be emulated in our healthcare institutions," Mr Mealy concluded.
The Honorary Fellowship citation was delivered at the ceremony by Mr David Moore, RCSI Council Member, who recounted the highlights of Joe Schmidt's career as Ireland head coach.