PROGRESS Women in Surgery Fellowship launched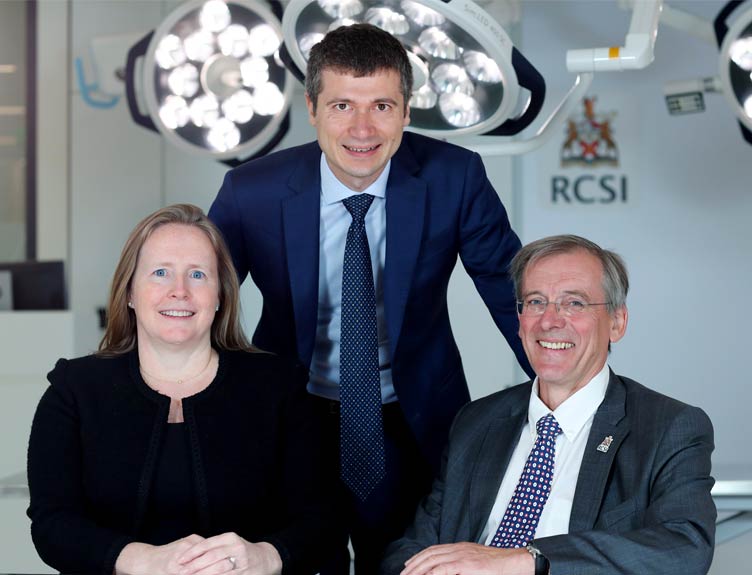 Ireland's first Fellowship for women surgeons has been launched by RCSI. Aimed at promoting female participation in surgical training in Ireland, this prestigious new bursary, funded by Johnson & Johnson Medical Devices Companies*, will give women surgeons the opportunity to gain exceptional experience and exposure to their chosen field, supporting their progression to consultant.
RCSI published the PROGRESS: Promoting Gender Equality in Surgery report in 2017, highlighting the scale of the problem and identifying a need to inform and encourage female medical students considering a career in surgery; build a culture that supports female surgical trainees; consider the needs of trainees who are parents; and, ensure that the professional development for practising surgeons supports and enables a diverse profession.
The report specifically called for the provision of fellowship for women surgeons to inspire exceptional trainees by providing the opportunity to avail of career-defining international fellowship training.
According to RCSI President Mr Kenneth Mealy: "RCSI is delighted to launch the first 'Women in Surgery Fellowship' in Ireland. Just 10% of practising surgeons in Ireland are women. RCSI is committed to taking the necessary steps to remove the barriers that are preventing women from progressing further in surgery. This Fellowship will not just support the successful candidate in advancing their career, it will also raise awareness and understanding of the challenges faced by women in surgery and provoke debate about how best to address these challenges."
Prof. Deborah McNamara, RCSI Council member and PROGRESS Working Group Chair, said: "RCSI has a long tradition of excellence in surgical training. Our surgeons, male and female, have earned leading positions in institutions across the world. The College has been at the forefront in developing transparent selection processes for future surgeons. Yet, despite more than 20 years of gender parity among medical graduates, female consultant surgeon numbers in Ireland remain very low. Evidence from other sectors shows that gender diversity within organisations results in better decision making and the surgical profession would also benefit by ensuring the unique contribution of male and female surgeons is valued and enabled."
Patrizio Fatale, Country Manager of Johnson & Johnson Medical Devices in Ireland, said: "At Johnson & Johnson Medical Devices, we are passionate about developing diverse workforces, nurturing female talent and ultimately educating individuals to ensure the best quality of care for patients.
"We are pleased to be funding this prestigious fellowship and enabling this opportunity for a talented female surgical trainee to gain invaluable clinical, research, education and management experience that RCSI offers as part of this fellowship programme."
The successful candidate will be awarded a Fellowship up to an amount of €45,000 for each year for a maximum of two years and the RCSI PROGRESS Fellowship Medal. The closing date for applications is Friday, 1 November 2019. Further information is available from Ger Conroy, Department of Surgical Affairs, 121 St Stephen's Green, Dublin 2.
RCSI is committed to promoting gender equality among staff and students for the advancement of the College's mission to educate, nurture and discover for the benefit of human health. RCSI has been awarded Athena SWAN Bronze accreditation for positive gender practice in higher education. In March, the College unveiled a ground-breaking series of portraits to recognise the pioneering achievements of a group of eight extraordinary women and to enhance the visibility of historical female leaders in healthcare to inspire future generations.
*Johnson & Johnson Medical Devices Companies is funding the fellowship through an educational grant and will not be involved in the selection of candidates for the fellowship.