RCSI welcomes more than 560 new students at Orientation Week 2019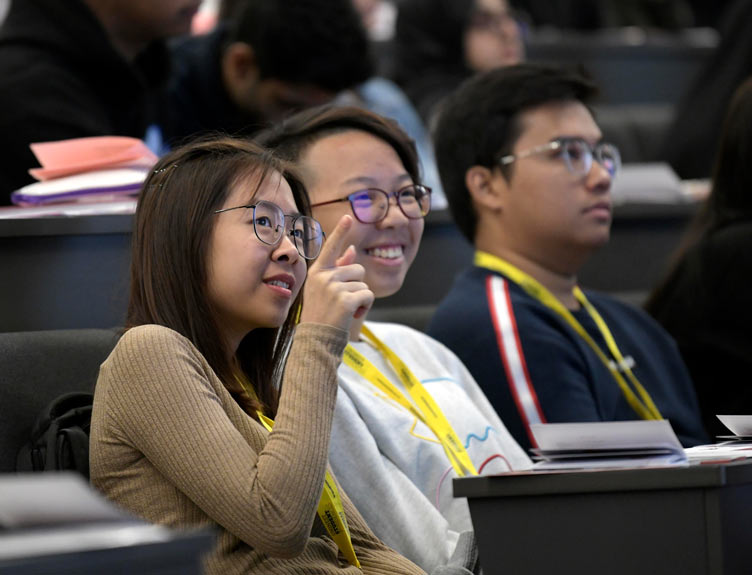 RCSI has begun welcoming its newest cohort of students to the College as Orientation Week gets underway. 563 students began their courses in medicine, pharmacy and physiotherapy and will get to know their way around the College, while also being introduced to academic and professional services staff.
This year's undergraduate intake of medical, pharmacy and physiotherapy students come from Ireland and a host of other countries across Europe, North America, Australia, the Gulf States, Asia and Africa. Also joining are 60 medical students as part of the RCSI & UCD Malaysia Campus (RUMC) programme. This year's intake also includes 95 graduate entry medicine students who commenced their programme last week.
RCSI's three undergraduate schools welcomed their respective new students to RCSI this morning with an opening address from School Heads with Professor Arnold Hill welcoming students to the School of Medicine, Professor Tracy Robson welcoming the new pharmacy students and Professor Suzanne McDonough addressing physiotherapy students.
The students were provided with an overview of the extensive range of academic and non-academic supports that are available to all students in the College. The Students' Union also briefed the new incoming students about the range of social activities that they have organised as part of Freshers' Fortnight and introduced the clubs and societies which play such an important part in the life of an RCSI student.
Mr Kenneth Mealy, President of RCSI, will host a reception which is an opportunity for new students' families to join in the excitement of the beginning of their life as an RCSI student. Students and their families will also have the opportunity to meet with academic and non-academic staff at the President's Reception.
On Tuesday, 10 September, the White Coat Ceremony will take place in 26 York Street. The White Coat Ceremony is undertaken in the first week in College as a commencement ceremony for all medicine, physiotherapy, pharmacy students and physician associates –marking their new role as student health professionals.
Students are invited by Professor Hannah McGee, Dean of the Faculty of Medicine and Health Sciences, to make a commitment to professionalism that mirrors the graduates' declaration recited at their conferring day, and that signals the responsibilities they must begin to undertake as future health professionals from the start of their academic training.
The ceremony will be live streamed on the RCSI website from 5.30pm to invite families and friends who are unable to attend the event to watch proceedings from anywhere in the world.
As well as orientation, there are a wide variety of social events organised for students during Freshers' Fortnight, including sign-up day for clubs and societies and the Freshers' Carnival in the RCSI sports grounds in Dardistown.
Orientation Week, which kicks off today, will continue until Friday, 13 September and will run in tangent with Freshers' Fortnight.