RCSI researcher wins the HRB Ones2Watch Award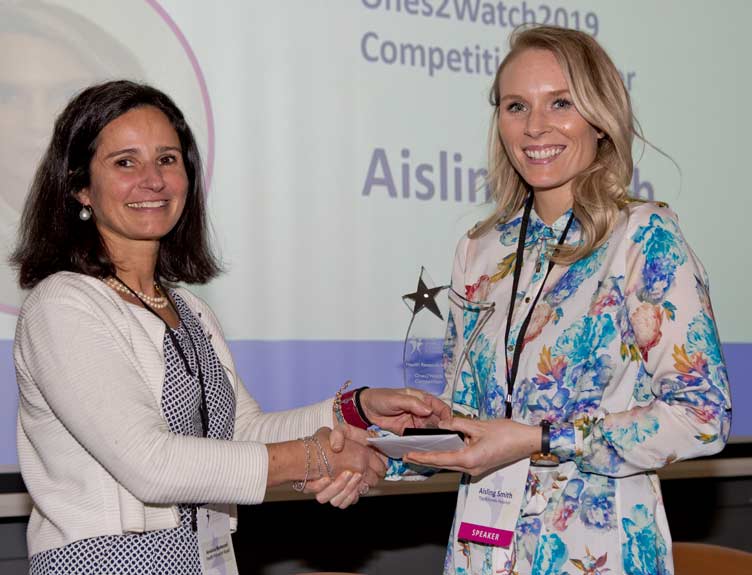 Dr Aisling Smith has won the Health Research Board (HRB) Ones2Watch Award.
Dr Smith received the award for her research on heart function in babies born with Down Syndrome over the first two years of age.
Dr Smith is a neonatology specialist registrar; she is currently working on a PhD research project in collaboration with three Dublin maternity hospitals – the Rotunda Hospital, the Coombe Women and Infants University Hospital and The National Maternity Hospital. The research aims to improve cardiac care for babies born with Down Syndrome in Ireland.
Speaking at the ceremony, Dr Smith said: "I am are thrilled to have won the 'HRB Ones to Watch' prize. We are delighted that our work has reached a wider audience and that it has been recognised as valuable for babies with Down Syndrome and their families.
"Upon completion of the PhD, we aim to write national guidelines for cardiac follow up for babies born with Down Syndrome in Ireland. This work will directly impact the lives of babies born with Down Syndrome, both nationally and internationally."
Dr Smith's research 'Longitudinal assessment of cardiac function in infants with Downs Syndrome using novel echocardiography techniques' is being carried out under the supervision of Prof. Afif El-Khuffash and Prof. Naomi McCallion at RCSI Rotunda.