RCSI students attempt world record to commemorate the 80th anniversary of International Students' Day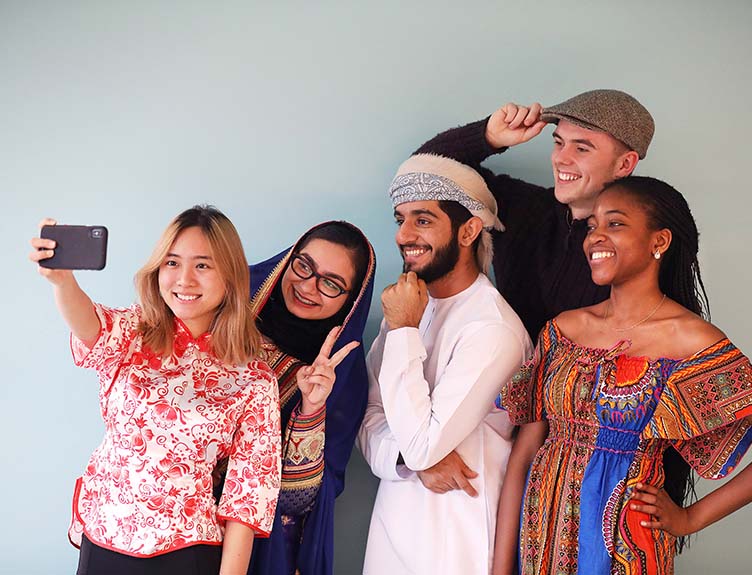 RCSI students from over 60 countries have attempted a Guinness world record for the "Most Nationalities in a Health Awareness Lesson" to commemorate the 80th anniversary of International Students' Day at the Royal College of Surgeons in Ireland (RCSI).
International Students' Day (17 November annually) commemorates events that unfolded in Prague during World War II when a large number of students were sent to concentration camps, some of whom were executed without trial. This Day now marks a non-political celebration of the multiculturalism of international students and the value to be gained from breaking down cultural barriers through international education.
Given that World Diabetes Day falls on 14 November, the students chose diabetes as their topic for the health awareness lesson. Professor Seamus Sreenan, Consultant Endocrinologist and Director of the Graduate Entry Medicine Programme, delivered the lecture. Two independent experts (one from Diabetes Ireland and the other from DCU) also attended, alongside official timekeepers and a number of independent stewards.
In the spirit of student partnership, students and colleagues actively collaborated to organise this Guinness world record attempt. Students from the Schools of Medicine, Physiotherapy, Pharmacy and Biomolecular Sciences, Nursing and the School of Postgraduate Studies were all invited to attend. This key student partnership represents the first time that students from all undergraduate and postgraduate schools in RCSI have come together in support of a singular goal.
"RCSI specialises in health sciences education, which nurtures and develops tomorrow's healthcare leaders. In a world marked by division, RCSI students have joined forces to stand in solidarity to promote and showcase all that is positive about international education - bringing together students from different languages, cultures, religions, and ethnic groups, which broadens the overall student experience, ultimately enriching society in the process. This shows the unique community, solidarity and unity across international lines that is present at RCSI every day," said Professor Hannah McGee, Dean of the Faculty of Medicine & Health Sciences at RCSI.
"It is important now more than ever that we celebrate the diversity of where we come from and that we promote unity in educational settings. I am proud of the tremendous efforts that went into this world record attempt by both our students and our staff."
RCSI is ranked among the top 250 (top 2%) of universities worldwide in the Times Higher Education World University Rankings (2020) and its research is ranked first in Ireland for citations. It is an international not-for-profit health sciences institution, with its headquarters in Dublin, focused on education and research to drive improvements in human health worldwide. RCSI has been awarded Athena Swan Bronze accreditation for positive gender practice in higher education.