Former US Ambassador to UN Samantha Power receives Emily Winifred Dickson Award at RCSI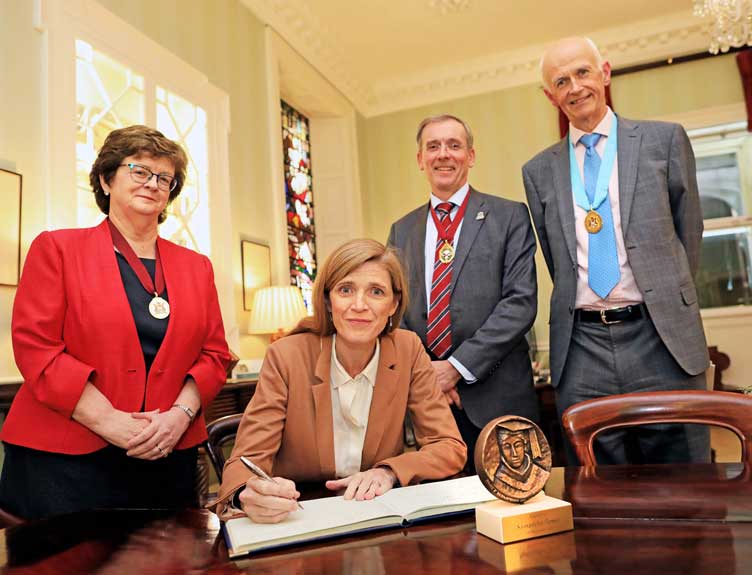 Former US Ambassador to the UN Samantha Power received the Emily Winifred Dickson Award at a ceremony at RCSI last night, after joining broadcaster Miriam O'Callaghan for an on-stage conversation.
Described by Barack Obama as "one of the foremost thinkers of foreign policy", Irish-born Samantha Power began her career as a war correspondent, covering the Yugoslav Wars for multiple international publications.
In 2003 Ambassador Power won a Pulitzer Prize for her book, A Problem from Hell: America and the Age of Genocide. In 2005, her critiques of US foreign policy caught the attention of newly elected Senator Barack Obama who invited her to work with him on Capitol Hill and then on his presidential campaign. Following Obama's succession to the Oval Office, Ambassador Power became his human rights adviser and, in 2013, the youngest ever US ambassador to the UN.
She has recently published The Education of an Idealist, a personal account of her journey from Irish immigrant to war correspondent to presidential Cabinet official and UN Ambassador.
Speaking at the ceremony, RCSI CEO Prof. Cathal Kelly said: "It is our great honour to present Samantha Power with the Emily Winifred Dickson Award and to welcome her home to Ireland for this very special occasion.
"Emily Winifred Dickson broke boundaries when she became the first female Fellow of RCSI in 1893, making her the first female Fellow of any of the surgical royal colleges in Britain and Ireland. RCSI established the Emily Winifred Dickson Award in honour of the achievements of this pioneering woman. For the contribution she has made to global politics, Samantha Power is a most worthy recipient of this award."
The Emily Winifred Dickson Award recognises women who have made an outstanding contribution to their field. It has also been presented to Professor Louise Richardson, who was the first female Vice Chancellor of the University of Oxford and Mary Robinson, President of the Mary Robinson Foundation for Climate Justice, former President of Ireland and former United Nations High Commissioner for Human Rights.
Last evening's presentation of the Emily Winifred Dickson Award marks the first since the unveiling of Emily Winifred Dickson's portrait which is part of RCSI's Women on Walls collection.