RCSI celebrates the graduation of healthcare and research professionals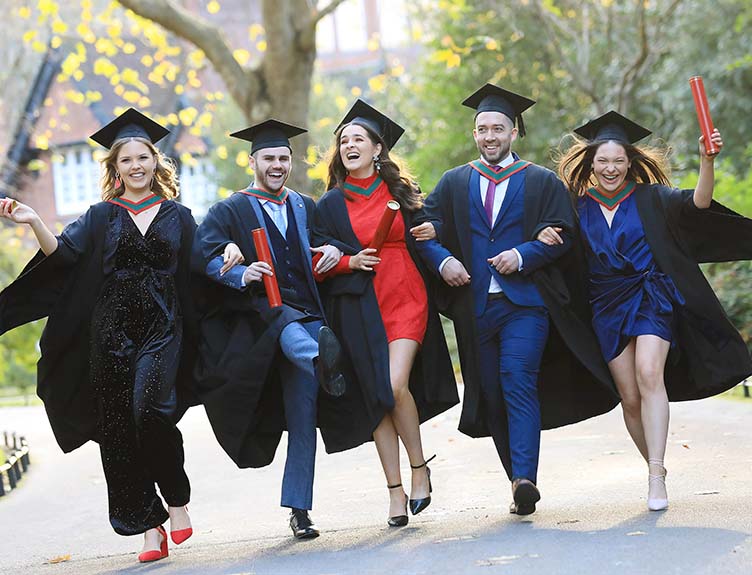 Physiotherapists, nurses and health research scientists have graduated from RCSI at the College's November conferring ceremonies.
The first ceremony, which took place on the morning of 14 November, saw the conferring of Postgraduate Academic Awards. The ceremony saw candidates receive Doctoral and Masters degrees, including Masters of Surgery (MCh), Master of Science, MD and PhD, plus postgraduate diplomas and certificates
Later that afternoon, candidates from full-time Undergraduate programmes at RCSI BSc Physiotherapy and Medicine (MB, BCh, BAO (NUI, RCSI), LRCP&SI) graduated.
On 14 November, Professor Adrienne Flanagan was awarded an honorary doctorate by RCSI. Professor Flanagan is the Head of Academic Pathology at UCL, and the Clinical Lead for the London Sarcoma Service and the Royal National Orthopaedic Hospital. She heads the Bone Pathology network for the UK, and her research has delivered the molecular classification for primary bone tumours resulting in the introduction of diagnostics markers, which are now used globally.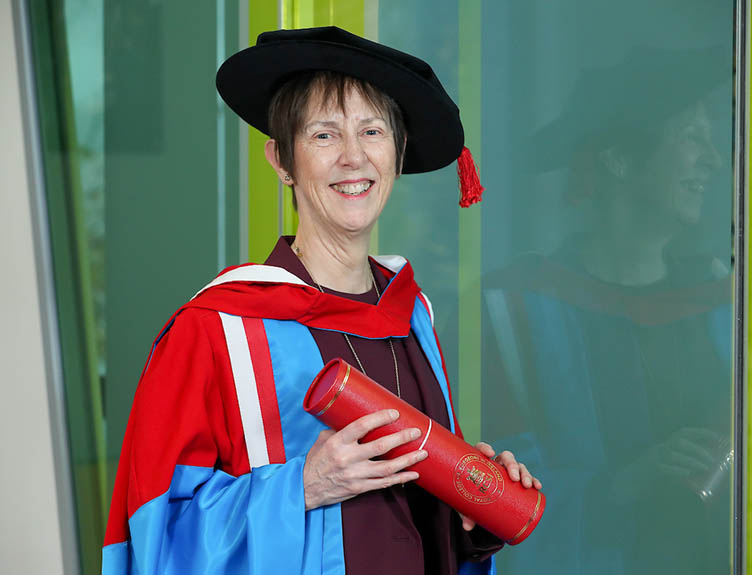 Professor Adrienne Flanagan receiving her honorary doctorate from RCSI
On 18 November, Dr David Ansell was awarded an honorary doctorate. Dr Ansell is the Presidential Professor of Internal Medicine and Senior Vice President/Associate Provost for Community Health Equity at Rush University Medical Center in Chicago. His research and advocacy focuses on eliminating health inequities. In 2011 he published a memoir of his times at County Hospital, County: Life, Death and Politics at Chicago's Public Hospital, and his latest book, The Death Gap: How Inequality Kills, was published in 2017.
Speaking on RCSI's latest honorary doctorate recipients, Professor Cathal Kelly, Chief Executive/Registrar, RCSI said: "Both honorary doctorate recipients could not be more deserving. Professor Flanagan's impressive career includes significant advancements in treating bone tumours, and the impact of her work is helping patients worldwide. Dr Ansell shines an important light on gaps and inequalities in healthcare and provides an important reminder that human compassion must keep pace with scientific advancements. I am honoured that we have the privilege to award these extraordinary individuals with honorary doctorates."
Two further conferring ceremonies took place at The Convention Centre Dublin (CCD), on 18 November. The first ceremony saw 420 candidates graduate with Nursing and Midwifery awards including Masters, Postgraduate Certificates and diplomas. A number of awards were presented at the ceremony, including the Florence Nightingale Committee of Ireland Award, Mary Frances Crowley Award, Rose Lanigan Medal and the Catherine Cummins Medal.
The conferring celebrations concluded with the Postgraduate Academic Awards Degree ceremony, which saw a further 272 candidates graduate. They were awarded Masters in Pharmacy (MPharm) from the School of Pharmacy and Biomolecular Sciences The Institute of
Leadership programme candidates were conferred with Masters, Postgraduate Diplomas and Certificates in Healthcare Management, Leadership, Leadership in Health Professions Education and Quality & Safety in Healthcare Management. At this ceremony RCSI's Institute of Leadership and the Irish Hospice Foundation jointly awarded the Masters in Loss and Bereavement.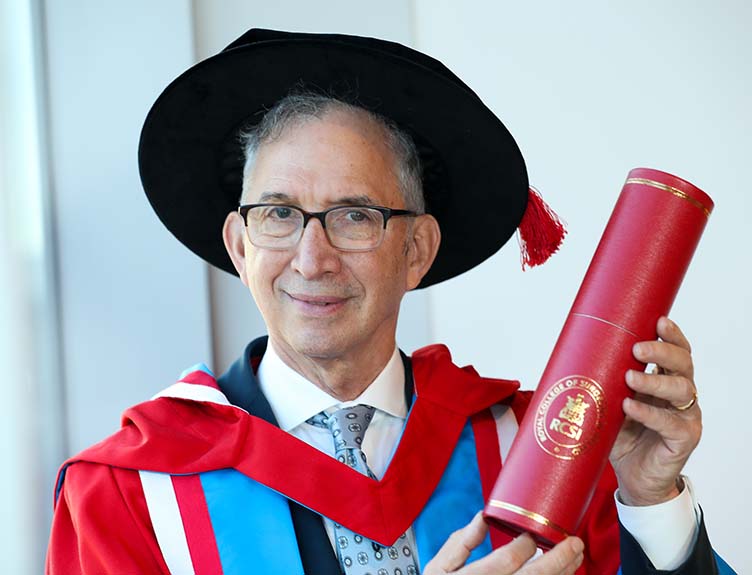 Dr David Ansell receiving his honorary doctorate from RCSI