First PROGRESS Women in Surgery Fellowship awarded to Ms Ailín Rogers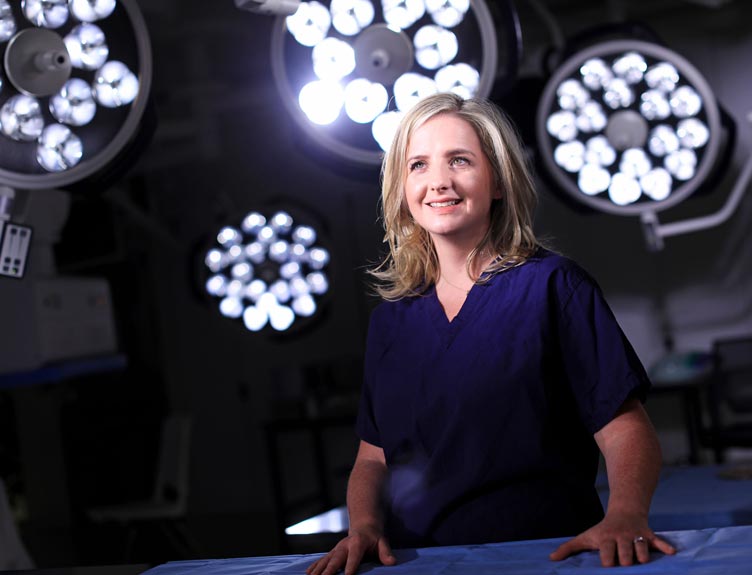 Ms Ailín Rogers, FRCSI, has today been announced as the recipient of Ireland's first PROGRESS Women in Surgery Fellowship.
Aimed at promoting female participation in surgical training in Ireland, this prestigious new RCSI bursary, funded by Johnson & Johnson Medical Devices Companies*, will support the acquisition of additional surgical skills and knowledge and contribute to the advancement of surgical science and practice on the island of Ireland.
RCSI published the 'PROGRESS: Promoting Gender Equality in Surgery' report in 2017, identifying the complex barriers to female progression in surgery. The report specifically called for the provision of fellowship for female surgeons to inspire exceptional trainees by providing the opportunity to avail of career-defining international fellowship training.
Ms Rogers graduated from UCD in 2007 and completed her MRCS before pursuing a PhD in colonic physiology. She has postgraduate qualifications in statistics and in healthcare economics and almost 50 peer-reviewed publications. Her study on gender and specialty differences among trainees was published in the Annals of Surgery and a Viewpoint on pregnant surgeons in JAMA Surgery.
She is currently in her final year of the surgical Specialist Registrar scheme and will travel to the Royal Marsden Hospital in London in 2020 to undertake a fellowship, supported by RCSI and funded by Johnson & Johnson Medical Devices Companies, in robotic colorectal surgery and multivisceral resection for advanced pelvic malignancy.
Accepting the fellowship, Ms Ailín Rogers said: "It is a great honour to receive the inaugural PROGRESS Female Surgical Fellowship, funded by Johnson & Johnson Medical Devices Companies. The award will allow me to pursue a lifelong career goal – to complete a fellowship in the Royal Marsden Hospital London, a global leader in the field of cancer treatment and research. The fellowship will allow me to train in cutting-edge robotic surgery, gaining the skills required to treat patients with advanced pelvic cancer, and support my progression to consultant.
"As a surgeon with children, I am undertaking this fellowship with the full support of my husband who will remain at home with our two children. It will be difficult to be apart from my family, but the PROGRESS Female Surgical Fellowship will support me to commit to the programme while affording regular travel back to Dublin. This initiative will encourage women to successfully compete for international surgical fellowships, addressing one of the barriers to achieving gender parity at consultant appointment.
"I am grateful to RCSI and Johnson & Johnson Medical Devices Companies for their support in this inaugural award, and I congratulate them on an initiative which will benefit many women surgeons in the future."
Congratulating Ms Rogers, RCSI President Mr Kenneth Mealy said: "I am delighted to award this Fellowship to Ailín Rogers. The Fellowship signifies RCSI's commitment to addressing the barriers that are preventing women from progressing further in surgery, as clearly outlined in the recent PROGRESS reports. Through this Fellowship, Ailín will play an important role in promoting a better understanding of the challenges faced by women in surgery and provoke debate about how best to address these challenges."
Patrizio Fatale, Country Manager of Johnson & Johnson Medical Devices in Ireland, said: "At Johnson & Johnson Medical Devices Companies, we are passionate about developing diverse workforces and nurturing female talent. The PROGRESS report highlighted the need to do more to support female surgical trainees and our hope was for the fellowship to be a key step in tackling that issue. I would like to congratulate Ailin Rogers on being awarded the fellowship and wish her every success at the Royal Marsden Hospital."
* Johnson & Johnson Medical Devices Companies is funding the fellowship through an educational grant and was not involved in the selection of candidates for the fellowship.