WHO Director-General awarded Honorary Fellowship by RCSI Faculty of Nursing and Midwifery
General news
Global surgery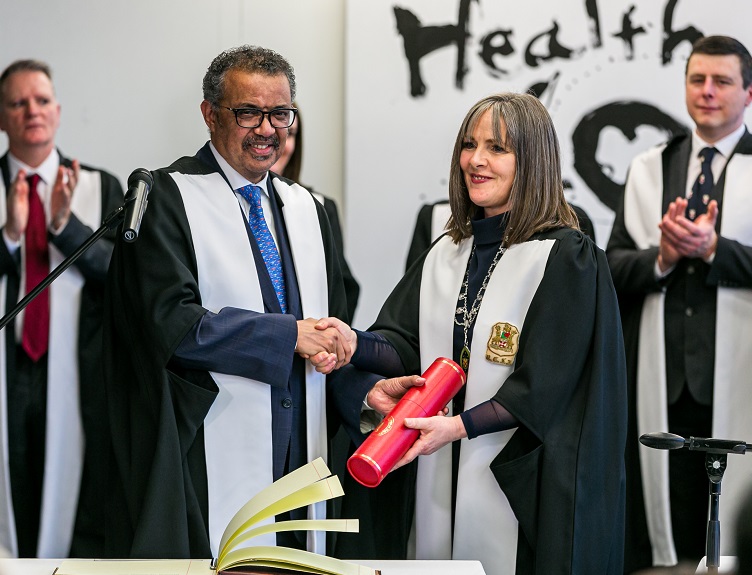 World Health Organization (WHO) Director-General Dr Tedros Adhanom Ghebreyesus has been made an Honorary Fellow of the RCSI Faculty of Nursing and Midwifery.
Dr Tedros, elected WHO Director-General for a five-year term in May 2017, has been awarded Fellowship during the WHO designated International Year of the Nurse and the Midwife.
Dr Tedros is globally recognised as a health scholar, researcher, and diplomat with first-hand experience in research, operations, and leadership in emergency responses to epidemics. Under his leadership the World Health Assembly designated 2020 as the International Year of the Nurse and the Midwife.
During his tenure as Head of the Tigray Regional Health Bureau, Dr Tedros was credited with a 22.3% reduction in the prevalence of AIDS in the region, and a 68.5% reduction in meningitis cases. During his period as Minister of Health, the Ethiopian Ministry of Health built 4,000 health centres, trained and deployed more than 30,000 health extension workers, and developed a new cadre of hospital management professionals. He also designed a health workforce reform strategy that resulted in the training and deployment of thousands of doctors, nurses, pharmacists, laboratory technologists and health officers.
As Minister of Health, Dr Tedros was active in global health initiatives and created an impact on the wider area of the global health architecture. Ethiopia was the first country to sign a compact with the International Health Partnership to improve the health of citizens in developing counties. Prior to his election as WHO Director-General, Dr Tedros served as Ethiopia's Minister of Foreign Affairs from 2012–2016 where he led efforts to secure commitment from 193 countries to provide the finance necessary to achieve the Sustainable Development Goals.
Dr Teresa Frawley, Dean Faculty of Nursing and Midwifery, said: "Whether holding a health or foreign affairs political brief, all roads lead to universal health coverage for Dr Tedros who has demonstrated what it takes to expand access to health care with limited resources. Dr Tedros is a most worthy recipient of the highest honour the Faculty of Nursing and Midwifery can bestow, Honorary Fellowship."
"The world needs 9 million more nurses and midwives if it is to achieve universal health coverage by 2030. Supporting nurses and midwives practice to the limit of their scope and enhancing their competence and capability is necessary to address health challenges experienced across the globe. Dr Tedros recognises the centrality of nurses and midwives to achieving real progress in universal access to healthcare and we thank him for that."
Welcoming the Fellowship, RCSI CEO Prof. Cathal Kelly, said: "It is a great honour for RCSI to award Dr Tedros with Honorary Fellowship of the Faculty of Nursing and Midwifery. With over 20,000 alumni providing health care across the world, our university is driven to lead the world to better health and our Institute of Global Surgery is working to address the barriers to access to surgical care in sub-Saharan Africa. Dr Tedros' lifelong commitment to universal access to healthcare and his dogged work to implement the changes needed is inspiring."