New work of art honours RCSI White Coat Ceremony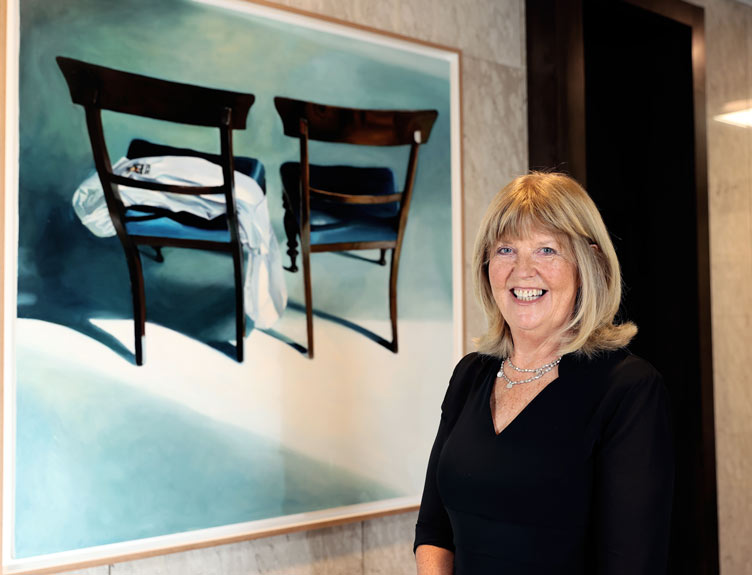 A new painting inspired by the RCSI Declaration has been officially unveiled at RCSI University of Medicine and Health Sciences.
The painting by artist Mary A. Kelly recognises and celebrates the symbolism of the white coat and the beginning of students' academic journey, marking their new role as student health professionals.
The artwork, entitled 'I make these promises solemnly, freely and upon my honour', was created by Mary A. Kelly, winner of the RCSI Art Award 2019 in association with The Irish Times and the Royal Hibernian Academy (RHA) Annual Exhibition.
The painting was commissioned by RCSI to capture and to honour the ritual of the white coat ceremony and the symbolism of the white coat. During the ceremony, students are invited to make a commitment to professionalism that mirrors the graduates' declaration recited at their conferring day. The declaration signals the responsibilities they must begin to undertake as future health professionals from the start of their academic training.
Professor Cathal Kelly, RCSI CEO, said: "The White Coat Ceremony is an important rite of passage, welcoming our new students into the healthcare profession. As RCSI students, they are bound by the same professional commitments that bind all clinicians. We are delighted to unveil the commission by Mary A. Kelly and I would like to congratulate her on this inspirational and emotive artwork. Her painting evokes the relationship between health and medicine, doctor and patient."
Aíne Gibbons, Director of Development and Chair of the RCSI Art Committee, said: "This year, our students are commencing their academic journeys at a time of great challenge and change, and also one of great opportunity. We are delighted to add this powerful painting to RCSI's art collection. We hope this artwork will inspire generations of students, our future healthcare leaders, and returning alumni."
Mary A. Kelly is a contemporary Irish artist and filmmaker whose work is widely collected and is included in both the Microsoft and Goldman Sachs collections. She commented: "The ethos of humanity at the core of the RCSI Declaration was the inspiration for this painting."
The RCSI Art Award was established in 2016 to celebrate the common heritage of RCSI and the RHA and the long-standing association between art, medicine and well-being.
Both RCSI and the RHA have Georgian origins and are 32-county bodies. RCSI was occupied, while the RHA was destroyed in the Easter Rising of 1916 and the RCSI Art Award was established to coincide with the centenary of these historic events. Past winners of the award include Remco de Fouw (2016), Miranda Blennerhasset (2017), and Amelia Stein (2018).
Watch Mary speaking about her inspiration for the artwork: