Dr Tony Holohan receives Honorary Fellowship from RCSI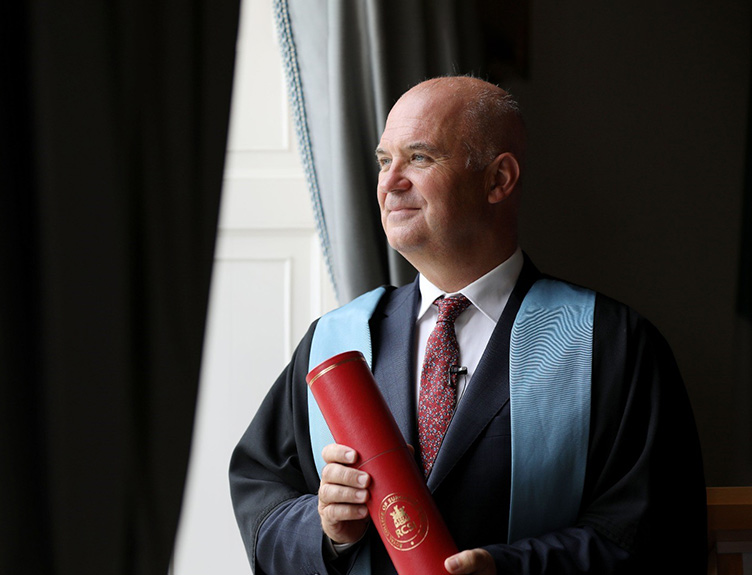 Ireland's Chief Medical Officer Dr Tony Holohan has today received an Honorary Fellowship from the Royal College of Surgeons in Ireland (RCSI), in recognition of his outstanding leadership during the COVID-19 pandemic.
As Chief Medical Officer in the Department of Health, Dr Holohan has led the National Public Health Emergency Team (NPHET) in providing national direction and expert advice on the development and implementation of Ireland's response to the pandemic.
RCSI President, Professor Ronan O'Connell, said: "I congratulate Dr Holohan on his award of Honorary Fellowship of RCSI. Dr Holohan's contribution to Irish healthcare long predates the pandemic, yet this will be his legacy. Putting public health first, Dr Holohan has been transparent from the start, providing clear information which inspired trust and cohesion among a great majority of Irish people."
Professor Cathal Kelly, RCSI CEO, said, "Under Dr Holohan's stewardship, early and decisive action was taken, putting Ireland in a stronger position to manage the first wave of the virus than our neighbours to the east and the west. Since then, as we have moved through three waves, Dr Holohan has been steadfast and consistent in putting the health of Irish people first. We thank him for his service to our country and the outstanding example of public service and vocation he has shown for the healthcare leaders of the future."
Following his graduation, Dr Holohan trained in General Practice. He went on to study for a Masters in Public Health, which he achieved in 1996, graduating with honours and in first place. He was awarded membership of the Faculty of Public Health Medicine in 1998 after undertaking a major project on the health of homeless people for his thesis.
During his training as a Specialist Registrar in Public Health, Dr Holohan was awarded two research grants by the Health Research Board to study the health of men, women and children living in hostels and temporary rented accommodation. Other areas of work during this time included communicable disease control, cluster investigation and health intelligence.
Dr Holohan was appointed Deputy Chief Medical Officer in the Department of Health in 2001, a role he had for eight years before being appointed Chief Medical Officer. Shortly afterwards, he dealt with a serious public health crisis after the discovery of potentially harmful dioxins in Irish pork. This was quickly followed by swine flu in 2009. Since then, he has continued to work tirelessly on a wide range of major policy issues including health service reform, patient safety and quality in health care, health technology assessment, health protection and emergency planning, Healthy Ireland, alcohol and tobacco control, bioethics and reproductive health.
Founded as the national training body for surgery in Ireland, RCSI has been at the forefront of healthcare education and research since 1784. Today, RCSI is an innovative, world-leading international health sciences university and the professional training body for surgery in Ireland.