Two RCSI PhD candidates receive Fulbright awards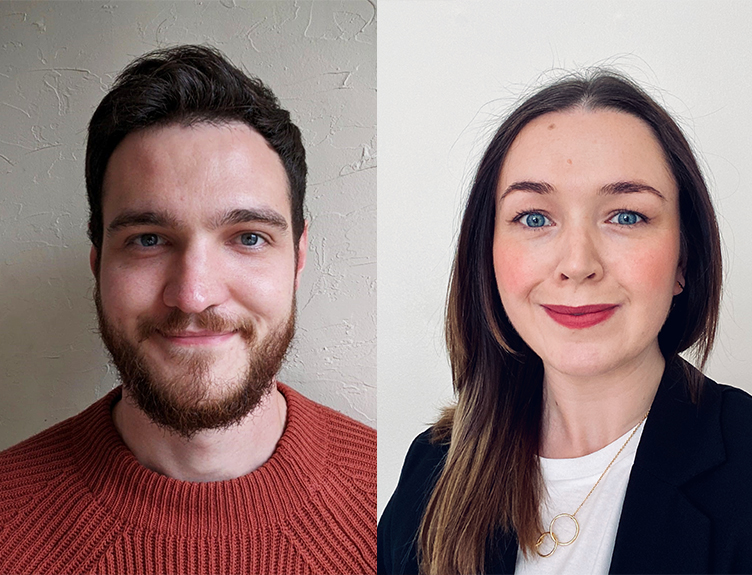 Two RCSI PhD candidates from the School of Pharmacy and Biomolecular Sciences, James O'Siorain and Joan Devin, have received prestigious Fulbright awards for the 2021-2022 academic year.
Joan Devin is a Clement Archer PhD student and a midwife in the Rotunda Hospital, Dublin. Her doctoral research is in the area of eHealth and Pharmacy Practice, and is an evaluation of eHealth technologies in relation to prescribing, dispensing, administration and monitoring of medication.
As a Fulbright-Enterprise Ireland Student Awardee, Joan will visit Children's Hospital Orange County and the University of California Irvine where she will use electronic health record data to understand and improve maternal, paediatric, and neonatal care in relation to sepsis and COVID-19, with an emphasis on the development of artificial intelligence models to predict sepsis in advance of early warning scores.
James O'Siorain is a PhD candidate in circadian immunology and his doctoral research examines how the body clock regulates immune responses and how body clock disruption contributes to inflammatory disease.
As a Fulbright awardee, James will visit the University of Cincinnati, where he will explore the use of circadian systems biology and circadian medicine to understand how body clock disruption is driving inflammatory disease.
"I would like to congratulate both Joan Devin and James O'Siorain on this fantastic achievement," said Dr Helen French, senior lecturer in the RCSI School of Physiotherapy and the University's Fulbright ambassador.
"The fact that not one, but two PhD candidates were successful in this year's Fulbright awards speaks to the strong calibre of our PhD students at RCSI and the School of Pharmacy and Biomolecular Sciences. These awards will allow them to expand their personal development and carry out a valuable exchange of ideas, which is key to advancing science."
The Fulbright Program provides grants for individually designed study/research projects. During their grants, Fulbrighters will meet, work, live with and learn from the people of the host country, sharing daily experiences. The program facilitates cultural exchange through direct interaction on an individual basis in the classroom, field, home, and in routine tasks, allowing the grantee to gain an appreciation of others' viewpoints and beliefs, the way they do things, and the way they think.