RCSI and Locate Bio win KTI Impact Award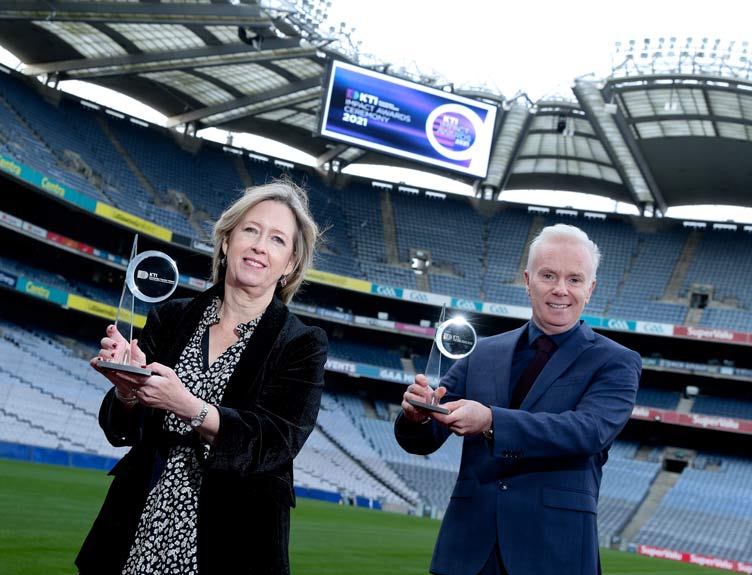 RCSI University of Medicine and Health Sciences and Locate Bio were announced as winners of the 2021 Knowledge Transfer Ireland (KTI) Commercialisation Impact Award at the 6th annual KTI Impact Awards.
RCSI was one of only three winners to be recognised at the KTI awards, which celebrate the work of the Higher Education Innovation Offices around the country, and their role in helping transform academic research into commercial impact. KTI supports businesses to increase their competitiveness through innovation with third level research.
KTI presented the Commercialisation Impact Award in recognition of the successful licensing of three bone and cartilage regenerative technologies from Professor Fergal O'Brien's research lab to Locate Bio, an innovative orthobiologics company, in 2020. The technologies have since been granted FDA breakthrough device designation, a key milestone which will simplify its regulatory pathway.
The judges were particularly impressed by the level of support provided from the Innovation Office at RCSI in what was an unusual transfer of intellectual property (IP). Locate Bio's use of the IP has been pivotal to recent success including the closing of a €12M funding round.
Professor Cathal Kelly, Vice Chancellor, RCSI said: "Congratulations to Professor Fergal O'Brien, Dr Aoife Gallagher and RCSI's partner company Locate Bio on this prestigious KTI Impact Award. Industry partnerships are a vital link for universities to translate research findings into treatments that can benefit patients and society. The recognition from KTI of the successful licensing of bone and cartilage biomaterials from RCSI's Tissue Engineering Research Group to Locate Bio is a testament to the university's research and innovation expertise that has the potential to transform healthcare outcomes in the future."
Other award winners were University College Cork (UCC), the Irish Photonic Integration Centre & Rockley Photonics who secured the Industry Engagement Award and Dublin City University (DCU) and Inclusio who won the inaugural Future Forward Award.
Tánaiste and Minister for Enterprise, Trade and Employment, Leo Varadkar said: "Congratulations to this year's winners. It's an incredible achievement and I've no doubt all three initiatives will make a big difference to the healthcare and workplace of many in the future. These awards are an excellent opportunity to showcase what can be achieved when industry and our Higher Education Institutions come together to solve problems and improve outcomes for people. Data show that companies which collaborate with our universities have double the turnover of those that don't so there are some real opportunities. Congratulations again to those being awarded today, but also to all the teams that took part and were in the running. I look forward to following your success in the months and years ahead."
KTI Director and Chair of the Judging Panel, Dr Alison Campbell said: "Our 2021 winners all represent significant impact from research and exemplify what a vibrant knowledge transfer community looks like. Across diversity and inclusion, health technology and cutting-edge photonics our winners today are delivering economic and societal benefit. I applaud the hard work and dedication in the Innovation Offices in our Higher Education Institute, who are driven by the desire to make a difference and see research translated for public good. I congratulate everyone involved in the submission process and give my thanks to the judges who had a particularly difficult task this year such was the quality of entries."