RCSI turns sod on new €22m education and research centre at Connolly Hospital
General news
Research
Students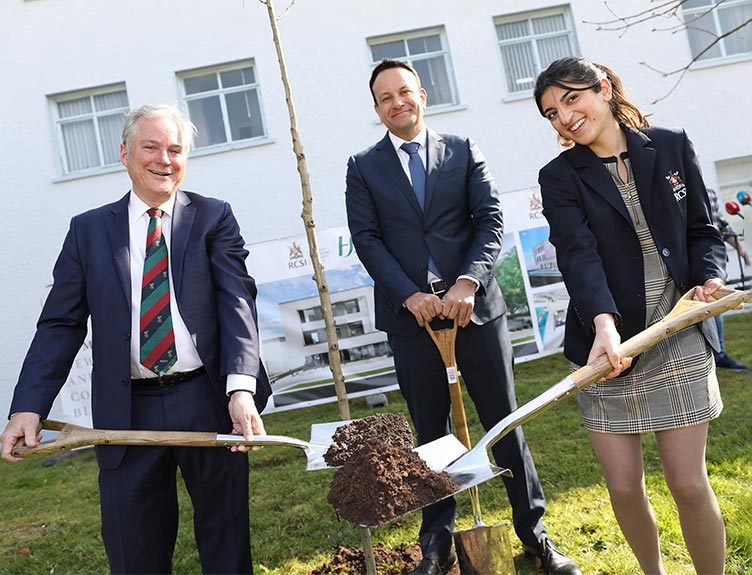 RCSI University of Medicine and Health Sciences has today marked the commencement of a new €22 million Education and Research Centre at Connolly Hospital in Blanchardstown at a sod turning event.
Due for completion in February 2024, the new centre will join the Smurfit Building, Education and Research Centre at Beaumont Hospital as RCSI's second clinical centre of academic excellence in Ireland. It will provide increased capacity for RCSI's translational research and will be the location for a new paediatric allergy research centre.
The 4,100 square metre development has been designed by McCauley Daye O'Connell Architects. It will be constructed by Felix O'Hare & Co Ltd.
The three-storey building is designed with two distinct interlocking blocks for academic, faculty and administration functions with a communal atrium area linking the two, providing amenity and support space for students and staff. The building will also have a large public area which will be open to Connolly Hospital staff.
Tánaiste and Minister for Enterprise, Trade and Employment Leo Varadkar TD attended today's event.
The Tánaiste, who is also a TD for the local constituency of Dublin West, said: "This new Education and Research Centre will be a really fantastic addition to Connolly Hospital. It will be a dedicated space for those training in the hospital, with state-of-the-art facilities in which to learn. It will transform RCSI's existing educational programmes, and provide lab space for cutting-edge research. RCSI has been at the forefront of health education for hundreds of years. I commend RCSI's vision for educating their students for professionally and personally-rewarding careers."
Minister for Health Stephen Donnelly TD said: "The HSE has invested €8 million in this project for new hospital laboratories. The new Hospital Integrated Pathology laboratory will provide essential diagnostic capacity for the communities of West Dublin, North Kildare and South County Meath. This new centre is an excellent example of academic health science systems working collaboratively in healthcare and will bring great benefit to medical students and patients alike."
Professor Ronan O'Connell, RCSI President, said: "The new Centre will contribute to the continued expansion of services, facilities and the education and healthcare workforce at Connolly Hospital, which serves the population of West Dublin and a wider region via the M50. Connolly Hospital is an integral part of the RCSI campus and this future-focused development reflects the university's commitment to the Hospital and the broader RCSI Hospital Group.
"It will greatly enhance the student experience for the Graduate Entry Medicine students based at Connolly and for other RCSI students while on clinical placement at the hospital. It will also allow us to educate new professional groups such as Physician Associates, which is a relatively new profession in Irish healthcare with the potential to greatly improve efficiency and patient experience," added Professor O'Connell.
Reflecting RCSI's commitment to sustainability, the building has been designed using the Energy Efficient Design approach to meet the highest standards in energy efficiency and will be 'A' rated. Some of the key features are solar electricity production on site, green roofs, rainwater harvesting, use of heat pumps, natural ventilation and selection of only the most highly energy efficient building materials.
RCSI has been at the forefront of health education since 1784. As one of the few educational institutions in the world focused solely on health sciences, the university aims to enhance human health by equipping students to become world-class healthcare professionals who go on to improve human health in Ireland and across the world.