Medical device and digital health startups pitch for their places on Medtech Innovator's Showcase and Accelerator programme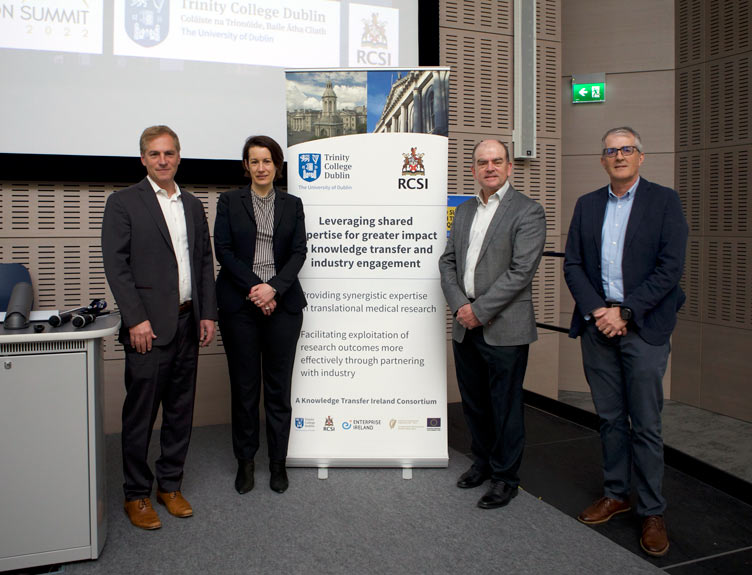 Leading medical device and digital health startups will today pitch for a place on Medtech Innovator's International Showcase and Accelerator Programme, which supports the development of the most promising innovations in the field. Partners, RCSI University of Medicine and Health Sciences and Trinity College Dublin, play host to the event.
Each year, MedTech Innovator, the leading non-profit accelerator in the global medical technology industry, selects the most promising medical technology startups and emerging growth companies and matches them with healthcare leaders for mentorship and support via its Showcase and Accelerator Programme.
In 2022, MedTech Innovator will select 50 startups and scaleups for participation in its accelerator programme out of over 1,000 applicants and will award more than €500,000 in cash and in-kind prizes during its competition.
The event, taking place at Trinity, features pitches from the best-in-class medical device and digital health companies in the region as well as from Europe, UK, and Israel. The 27 participating companies will pitch to a panel of over 60 expert judges and have the opportunity to network with MedTech Innovator partners such as investors, large cap strategic multinationals, and key industry executives.
This event is part of the Trinity RCSI Knowledge Transfer consortium – an initiative supported by Knowledge Transfer Ireland and Enterprise Ireland.
Paul Grand, CEO MedTech Innovator, said: "It's a pleasure to partner with Trinity and RCSI again this year to showcase best-in-class companies from Europe, UK, and Israel at our Dublin pitch event adjacent to the annual MedTech Strategist conference. With 138 companies applying to pitch in Dublin, our corporate partners selected more companies from Ireland than any other country, which is a testament to the outstanding medtech innovation ecosystem."
Professor Fergal O'Brien, Deputy Vice Chancellor for Research and Innovation at RCSI University of Medicine and Health Sciences, said: "As a dedicated medicine and health sciences university, RCSI is improving human health through innovative translational medical research. We are delighted to be partnering with MedTech Innovator and Trinity to host this event in order to foster high-potential life sciences spin-out companies that are making improvements in healthcare a reality for patients.
"We are looking forward to learning about the groundbreaking technology for uncontrolled asthma developed by RCSI spin-out company Phyxiom, the innovative device for heart failure from Pumpinheart and technology to treat balance disorders by Vertigenius, a joint Trinity/RCSI spin-out company."
Leonard Hobbs, Director of Trinity Research and Innovation, said: "Trinity is Ireland's leading university in terms of startup generation and is particularly successful in the medtech sector as well as in those of life sciences, ICT and engineering.
"We wish all participants well, including Trinity campus companies, Head Diagnostics, developing rapid assessment for brain impairment and brain disease; InjurySense, developing a wearable device to monitor hamstring function during running; Vertigenius, developing a treatment for dizziness and balance problems, and our emerging projects; ProACT Health, advancing 'home based' integrated care; Altach Medical, developing cartilage regeneration therapies; MitrAdapt, treating complex heart valve disease; and PLIO Surgical, improving outcomes in GI surgery."