RCSI Class of 2022 medical students receive final results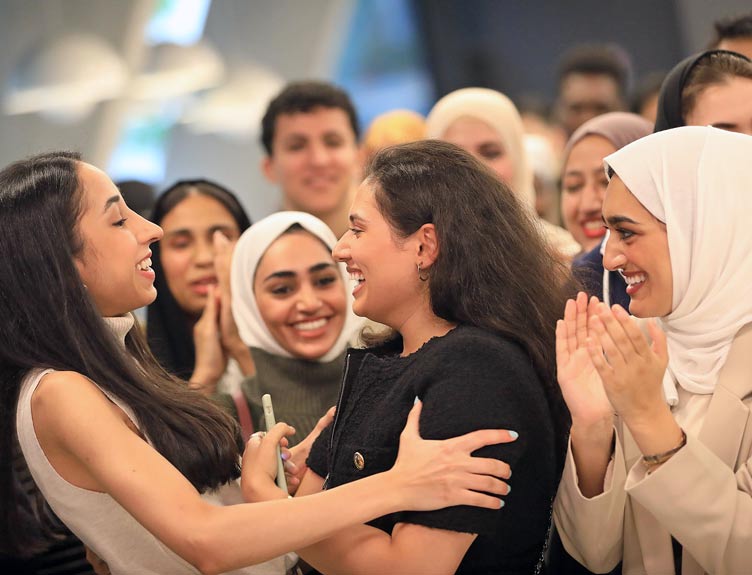 The final results of over 300 medical students at RCSI University of Medicine and Health Sciences were delivered in a live reading today, Tuesday, 17 May.
In a tradition that has been running for more than 60 years, the final year results were read out from the stairs at the RCSI campus at St Stephen's Green. Students gathered in person and via livestream to hear their results and celebrate as they embark on their new career as doctors.
The students were addressed by Professor Hannah McGee, Deputy for Vice Chancellor for Academic Affairs, and Professor Arnold Hill, Head of the RCSI School of Medicine, before the official results were delivered by Rachel McClean from the Student, Academic and Regulatory Affairs team.
Welcoming the return to in-person celebrations, Professor Cathal Kelly, Vice Chancellor of RCSI, said: "My congratulations to the Class of 2022 on this very special day. These students have undergone two challenges simultaneously – completing their medical education while also navigating the challenges of the COVID-19 pandemic.
"I am extremely proud of each and every one of them as their years of hard work and dedication come to fruition today. They have shown incredible dedication and resilience throughout this year, and I look forward to them taking the skills they have learned at RCSI into their lives as doctors."
The results reading is the first in a series of celebrations for the medicine Class of 2022 as they embark on their new careers as doctors, culminating in the School of Medicine Conferring Ceremony on 30 May.