RCSI awarded SFI funding for public engagement and education projects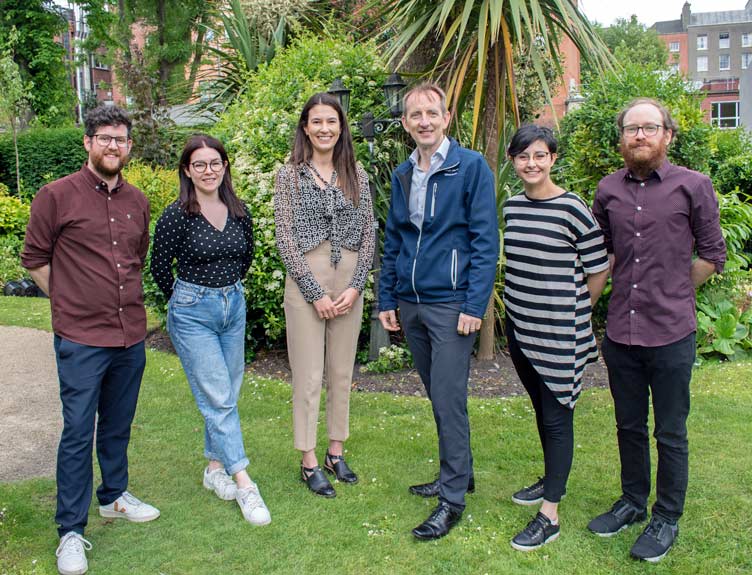 Researchers from RCSI University of Medicine and Health Sciences have been awarded more than €295,000 to lead projects as part of the Science Foundation Ireland (SFI) Discover Programme announced today.
The RCSI researchers were among the successful recipients awarded funding to support projects that empower and inspire deep public engagement, through SFI, announced by Minister for Further and Higher Education, Research, Innovation and Science, Mr Simon Harris TD and Minister for Education Norma Foley TD.
The research will support RCSI public engagement and education initiatives that aim to explore sexual health, well-being and science to engage a wide audience of young people with STEM topics.
RCSI SFI Discover projects:
Professor Fergal Malone, Department of Obstetrics and Gynaecology – Debunking the Myths: The Science Behind Our Sexual Health
Debunking the Myths: Science Behind Our Sexual Health is a STEM expert-led series of interactive workshops and online engagement tools to discuss sexual health with teenagers and debunk myths associated with topics around sexual health. Delivered by RCSI and Rotunda consultants, doctors and researchers, the programme explores topics including the HPV vaccine, contraception, menstruation, STI prevention and fertility to help teenagers learn more about these subjects in a non-biased and non-judgemental way.
Maria Kelly, RCSI Engage and Reach RCSI Programme – Junior Researcher Programme
The Junior Researcher Programme seeks to engage and inspire curiosity and confidence in science among junior cycle students of four DEIS (Delivering Equality of Opportunity in Schools) schools. Interactive laboratory sessions led by RCSI researchers and PhD scholar mentors aim to encourage participants to develop and interest and enthusiasm for science. The programme aims to increase awareness of the diversity of STEM careers, pathways to those careers and supports and opportunities available for students.
Announcing the SFI Discover Programme projects, Minister Simon Harris said: "I am delighted to announce today the 47 projects receiving funding through the Science Foundation Ireland (SFI) Discover Programme. These projects will have an invaluable impact, starting conversations about the role of STEM in society and inspiring our young people to explore careers in these areas. Through initiatives such as the SFI Discover Programme, we must support the public to have access to, and understand, the issues that impact our collective future, and the role science and technology can play in providing solutions. I wish all the recipients every success in the rollout of their projects."
Professor Fergal O'Brien, Deputy Vice Chancellor for Research and Innovation at RCSI, said: "I would like congratulate the RCSI recipients who have successfully secured funding through the SFI Discover Programme. As educators and researchers, it is our responsibility to spark curiosity, stimulate discussion and support the public to understand the issues that we face, and the role science can play in addressing these challenges. Through this programme, our researchers will lead innovative projects that will offer new ways to engage with STEM and see its contribution in promoting lifelong health."
Professor Fergal Malone, Professor and Chairman of the Department of Obstetrics and Gynaecology, Master of The Rotunda Hospital Dublin, and project lead of 'Debunking the Myths – The Science Behind Out Sexual Health', said: "Many young people are learning about their bodies and health issues from social media, film and television, which often show standardised images that can perpetuate misinformation about sexual health and unrealistic body standards. Through this project, we aim to empower students to make evidence-based decisions for themselves, to support good health and well-being in their youth and into the future."
Maria Kelly, Head of RCSI Engage and REACH RCSI, said: "The Junior Researcher Programme is designed to work in partnership with our education partners to encourage and grow participation in STEM education, inspiring young people to explore careers in STEM in the future. Students will experience what it's like to study science and gain real experience of what it's like to work as a scientist or researcher and see the impact of STEM in society. We aim to inspire the next generation of scientists to explore the wide variety of opportunities available to them."