RCSI hosts annual Teddy Bear Hospital for children and their sick bears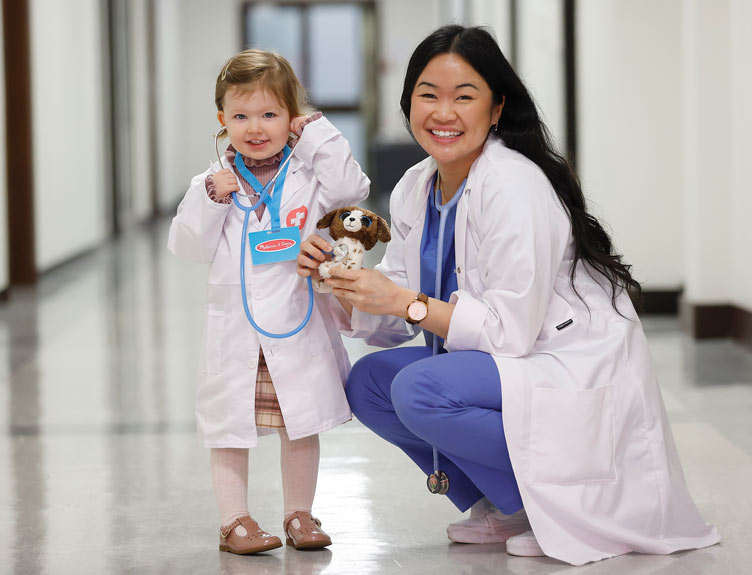 Unwell and injured teddies gathered this weekend for the 2023 Teddy Bear Hospital at RCSI University of Medicine and Health Sciences.
The free event which took place on 28 and 29 January was hosted by the RCSI Paediatric Society and welcomed more than 450 children taking their teddies for a check-up. Teddy bear doctors fixed any rips or tears, and children learned how to best take care of their teddies, with the aim of alleviating childhood fears about healthcare environments and increasing health literacy in school-aged children.
Over the course of their visits, the children and their teddy bears encountered 12 different stations created to mirror aspects of a real hospital. Topics included first aid, phlebotomy, surgery, pharmacy, X-rays, physiotherapy and a suturing station to help repair any loose stitching.
Children also learned about the effects of exercise on the heart rate through dance, and student volunteers educated children on the human body and the benefits of a balanced diet at the food and nutrition station.
Interactive experiences
Now in its ninth year, the Teddy Bear Hospital is designed for children aged 4-10, with their parents and siblings also welcome to join.
The event is run by volunteer medicine, physiotherapy and pharmacy students from RCSI, all of whom are passionate about helping children and providing fun, interactive experiences for them in a safe environment.
The sessions on Sunday were dedicated for children with disabilities or chronic illnesses who may be dealing with doctors and hospital environments more regularly. These sessions were smaller, quieter and more inclusive, with additional volunteers to ensure the children and their bears were supported according to their individual needs.
Creating engagement
Alexe Nguyen, President of the RCSI Paediatric Society, said: "The Teddy Bear Hospital is a highlight in the RCSI University calendar. It's so enjoyable to see how the children are so engaged and willing to learn about health and well-being every year.
"Our volunteers often learn a thing or two from the children too! We were delighted to host special sessions for children with disabilities and serious illnesses on Sunday. These are so important in familiarising children with illness with the different aspects of the medical environment they might encounter in a non-frightening way."
Proceeds from this year's Teddy Bear Hospital will go to Children in Hospital Ireland, a charity working with paediatric units around Ireland to provide vital voluntary services. Their mission is to 'promote the well-being of children within the healthcare system in Ireland, in particular, before, during and after hospitalisation'.
Children in Hospital Ireland aims to make hospital a happier place for children and young people through play, provision of recreational activities, support and advocacy.