Healthcare and research professionals graduate in RCSI summer conferring ceremony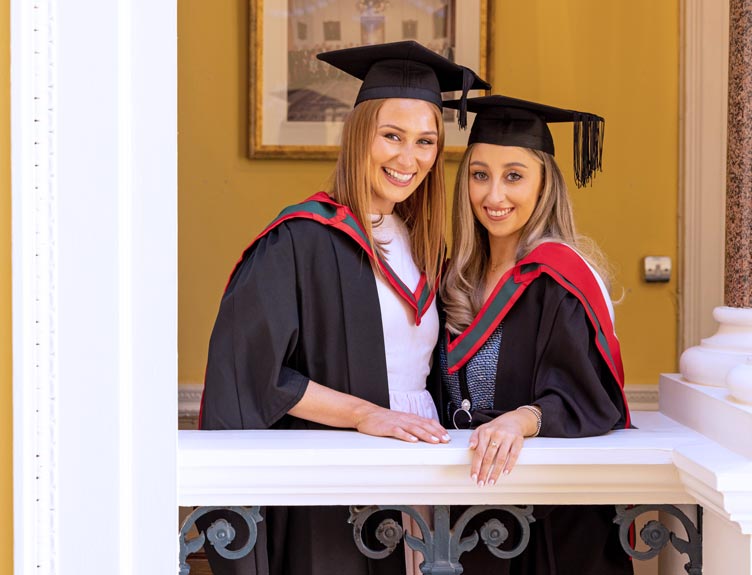 RCSI University of Medicine and Health Sciences' summer conferring ceremonies continued today with higher degree candidates graduating from the 2023 classes.
From the School of Postgraduate Studies, two Master of Science (MSc) by research candidates, six Doctor of Medicine (MD) graduates, two Master of Surgery (MCh) and 24 Doctor of Philosophy (PhD) graduates were conferred in the ceremony at the RCSI campus on St Stephen's Green. The candidates have carried out cutting-edge studies in research areas including cancer, immunology and eye diseases.
The degree of Master of Science (MSc) Physician Associate Studies was awarded to 11 candidates. The MSc in Physician Associate Studies at RCSI is the only programme of its kind in Ireland. Highly-skilled healthcare professionals, physician associates provide a broad range of medical services in a wide variety of workplaces (including all types of hospital and surgical care, GP practices and community health services).
Commenting on the success of RCSI's newest cohort of graduates, Professor Cathal Kelly, Vice Chancellor and CEO/Registrar of RCSI, said: "Your conferring today is a wonderful celebration of your achievements and a tribute to each and every one of you. It marks the culmination of many years of hard work and is a testament to your dedicated focus to a career in health sciences. We are delighted to be able to gather together and share your joy on this momentous day, and we look forward to celebrating your academic and professional successes long into the future."
The graduates were addressed by Professor Laura Viani, President of RCSI, who told them: "Today's conferring signifies your commitment to your professional development, having continued your education to postgraduate level. All RCSI graduates share a common goal: to improve human health. The legacy of healthcare innovations by our alumni over our 239-year history illustrates how each and every one of you has the potential to shape the delivery of excellence in patient care. This is a great responsibility but also a privilege."
The Faculty of Radiologists and Radiation Oncologists, the professional and academic body for radiologists in Ireland, also welcomed 31 new Fellows at the ceremony. Dr Patricia Cunningham Dean, Faculty of Radiologists and Radiation Oncologists, RCSI, congratulated them by saying: "The qualifications awarded to you today require effort and sacrifice. Today marks the end of one phase of your lives. I encourage you to place as much effort and enthusiasm into the next phase as you have into your training and examinations."