Stephen Murphy announced as winner of RCSI Art Award 2023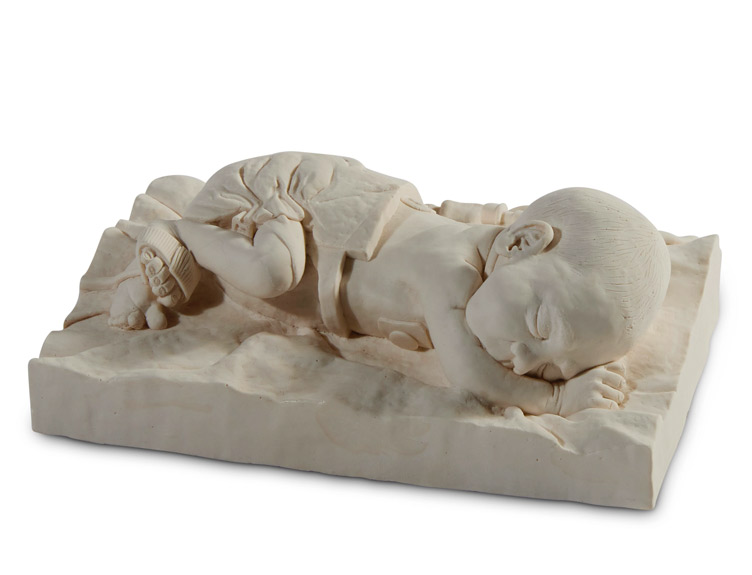 Stephen Murphy has been announced as the winner of the RCSI Art Award 2023 in association with the Royal Hibernian Academy (RHA) and The Irish Times.
The Cork-born artist was awarded the prize for his sculptural work, 'Newborn (The hardest day of your short life yet)'. It was selected from a shortlist of five pieces drawn from more than 560 works on display at the 193rd RHA Annual Exhibition, Ireland's largest and longest running exhibition of visual arts.
Now in its eighth year, the RCSI Art Award celebrates the long-standing association between art, medicine and well-being. At an event held in the RHA today, Stephen Murphy was awarded the RCSI Silver Medal, a prize fund of €5,000 to progress his practice, and a €10,000 commission to create a new piece for the RCSI Art Collection.
A graduate of Limerick School of Art and Design, Murphy's work spans the mediums of drawing, painting, printmaking, collage and sculpture. His professional art career has seen him exhibit in some of the world's most famous and highly contested shows, including the BP Portrait Award in the British National Portrait Gallery and the RA Summer Exhibition at the Royal Academy in London. Alongside his art practice, he is also an educator who has been described as 'inspiring' by the UK's 'Good Schools Guide'. Most recently Murphy has lectured at Limerick School of Art & Design, SETU Waterford and Mary Immaculate College.
A catalyst for conversation
Murphy's piece was inspired by the premature birth of his son, PJ, in 2022. The sculpture depicts PJ lying on his tummy, his favourite sleeping position while in an incubator at Limerick University Maternity Hospital. Murphy said: "It's a real joy and honour that 'Newborn' was chosen to receive the 2023 RCSI Art Award, especially considering how many healthcare professionals who have been so important to PJ have been RCSI Alumni. For me, the process of creating the sculpture was purely cathartic, capturing that difficult moment in time and compartmentalising all of the emotion which went with it, but I've seen now how 'Newborn' affects people in different ways.
It acts as a catalyst for conversations, some happy, some sad ... some absolutely devastating. Whilst medicine allows us the ability and opportunity to recuperate, to convalesce, to heal our bodies and minds, art complements those processes, allowing us through its making, enjoyment and observation the opportunity to heal the more elusive, ephemeral, esoteric and existential aspects of our self."
Inspiration for students
RCSI Vice Chancellor Professor Cathal Kelly, commented: "Congratulations to Stephen Murphy on winning the 2023 RCSI Art Award. This award is a celebration of the common heritage of RCSI and the RHA and the important link that exists between art and medicine. We look forward to seeing the artwork that Stephen will create for the RCSI Art Collection, which serves to enrich our campus experience and inspire students, staff and all who visit RCSI. My thanks to the RCSI Art Award judging panel for their enthusiasm, passion and commitment to the award."
All works of art, in any medium, selected for the 193rd RHA Annual Exhibition were considered for the RCSI Art Award. The other shortlisted artists were 'Humans' by Liam Belton RHA; 'Listener' by Rachel Joynt RHA; 'Bedside Table' by Niamh Porter; and 'Martina Prendergast, 12th October 1964 – 3rd July 2022' by Blaise Smith RHA.
For further information on the RHA Annual Exhibition, visit rhagallery.ie.