National Science Week 'Whodunnit?' sets the scene for RCSI's commitment to community, public and patient engagement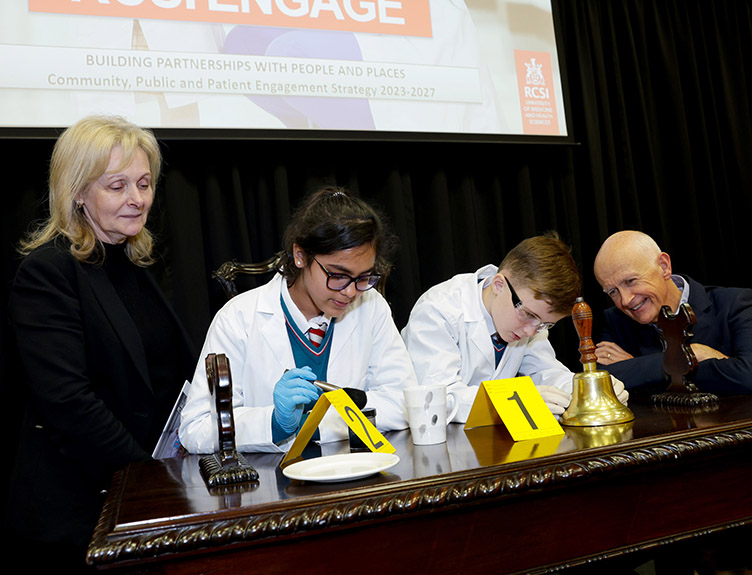 RCSI University of Medicine and Health Sciences' historic Exam Hall is usually a place of celebration where hundreds of students mark their graduations every year. But today, Tuesday, 14 November, as part of National Science Week, the famous room is taking on a more serious atmosphere as it is transformed into a crime scene where local school students will join RCSI scientists to solve the case of the missing ceremonial mace.
RCSI is using the immersive event as a backdrop to launch its new public, patient and community engagement strategy, which sets out the University's commitment to increasing its involvement and participation with a host of partners locally, nationally and internationally.
Cracking Crime with Science aims to encourage children from local DEIS (Delivering Equality of Opportunity in Schools) schools to develop an interest and enthusiasm for science, technology, maths and medicine.
Working with RCSI's access and community engagement team, academics, science students and Gardaí, 50 primary school children will be tasked with discovering who has stolen the silver graduation mace through a range of science experiments linked to the Irish primary science curriculum framework, including blood typing, fingerprinting, chromatography, UV light experiments, microscopy and footprint analysis.
Cracking Crime with Science has been developed by Professor Maria Morgan, Director of Year 1 Medicine Programme at RCSI and Maria Kelly, Head of RCSI Engage, the University's access and community engagement programme.
Hands-on learning
Professor Maria Morgan explains: "The science activities have been designed to ensure a hands-on learning experience for the participants, integrated to maximise creativity and problem solving and focused on a theme which every child is interested in."
Maria Kelly, Head of RCSI Engage, said: "We are delighted to host Cracking Crime with Science as part of Science Week 2023. Enthusiasm for science begins at a young age and by introducing participants to fun and innovative experiments we hope to inspire them to become the next generation of scientists.
"One of the key goals of our new RCSI Engage Strategy is to build on the collaborations we have with our schools and community partners to raise the aspirations of primary and post-primary students, co-create learning opportunities with a focus on STEMM promotion, and enhance educational attainment."
The RCSI Engage Strategy also outlines the university's focus on leveraging the expertise and insights of its academics, researchers and clinicians to help inform and engage the public about their own health and wellbeing. This includes building on the university's long-running RCSI MyHealth public lectures and podcast series aimed at giving people of all ages access to impartial and expert information on a range of health and wellbeing topics.
Public engagement
The new five-year strategy also details RCSI's major investment in a dedicated public engagement space at the entrance of its new building at 118 St Stephen's Green, which will open in 2025. The engagement space will be a new focal point for a range of events, interactive exhibitions and programmed activities to excite, involve and enthuse visitors about health and wellbeing.
Professor Laura Viani, RCSI President said: "As Ireland's only university dedicated solely to medicine and health sciences, RCSI is in a unique position to engage with communities to ensure our research, education and training expertise addresses the health challenges facing society.
"Through our new engagement strategy we want to deepen our partnerships with our many stakeholders and ensure that the voices of our community partners and patient contributors are heard."