RCSI celebrates and honours over 1,500 graduates at November conferring ceremonies
Alumni
General news
Students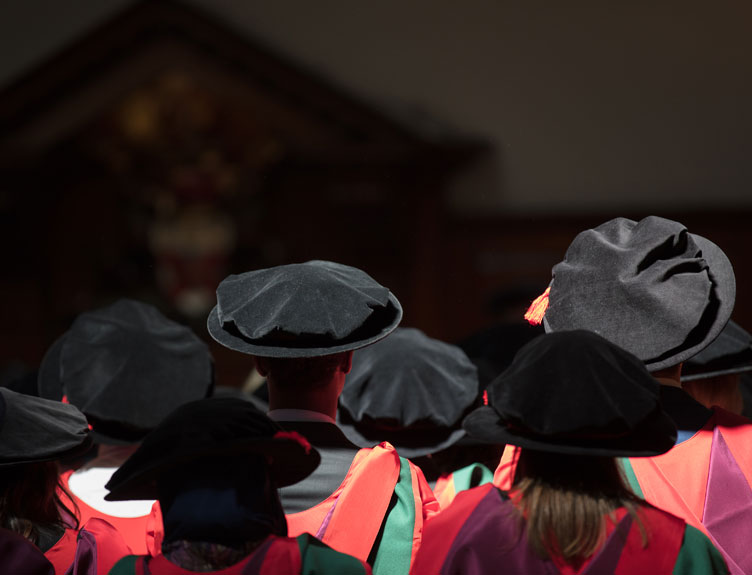 RCSI celebrates the 2023 winter conferrings this week with more than 1,500 health science graduates and three honorary doctorates conferred across four ceremonies.
The first ceremony will include the historical milestone of one million graduates conferred by the National University of Ireland (NUI), as RCSI graduates are conferred with both NUI and RCSI awards.
The ceremony, taking place on the morning of 20 November in the Convention Centre Dublin, will see almost 700 candidates conferred in Nursing and Midwifery including masters, bachelor of sciences, postgraduate and professional certificates and postgraduate diplomas. A number of special awards are also presented at the ceremony, including the Florence Nightingale Award, Mary Frances Crowley Award and the Rose Lanigan Award.
Candidates will be presented by the Vice Chancellor of RCSI, Professor Cathal Kelly, and conferred by RCSI President, Professor Laura Viani.
The graduates will be addressed by RCSI honorary doctorate recipient Margaret Murphy, patient safety advocate and the External Lead Advisor Emeritus for the World Health Organisation Patients for Patient Safety Programme.
During the afternoon postgraduate academic awards degree ceremony, a further 600 candidates will graduate with awards including masters of surgery (MCh) and masters of science (MSc). The Graduate School of Healthcare Management will confer its largest cohort to date with masters, postgraduate certificates and postgraduate and professional diplomas in areas such as Clinical Leadership, Healthcare Management and Quality and Safety in Healthcare Management.
At this ceremony, the largest ever cohort from the Loss and Bereavement programmes, delivered in partnership with RCSI and the Irish Hospice Foundation, will be also conferred.
Noeline Blackwell, a human rights lawyer and outgoing Chief Executive Officer of the Dublin Rape Crisis Centre, will be awarded an honorary doctorate and deliver an inspiring address to graduates at the ceremony.
The ceremonies continue on Wednesday 22 November with two conferrings held at the RCSI campus on St Stephen's Green, where over 130 candidates will receive qualifications in primary healthcare, as well as postgraduate academic awards.
RCSI celebrates the 2023 winter conferrings this week with more than 1,500 health science graduates and three honorary doctorates conferred across four ceremonies.
Celebration of achievements
The morning ceremony will include candidates from the full-time undergraduate programme of Bachelor of Science (BSc) in Pharmacy and the BSc in Physiotherapy.
During this ceremony, Emer Cooke, Executive Director of the European Medicines Agency and Chair of the International Coalition of Medicines Regulatory Authorities will be awarded an honorary doctorate by RCSI Deputy Vice Chancellor for Academic Affairs at RCSI Professor Hannah McGee.
The conferring celebrations will conclude with the postgraduate awards degree ceremony, which will see more than 120 candidates graduate. Among the degrees awarded will be Masters in Pharmacy (MPharm) and MSc in Technologies and Analytics in Precision Medicine by the School of Pharmacy and Biomolecular Sciences as well as degrees of Doctor of Medicine (MD) and Philosophy (PhD).
Postgraduate Certificates and Diplomas in Health Professions Education will also be conferred, marking 10 years of the diploma programme.
Professor Cathal Kelly congratulated all those conferred on their success: "Your conferring today is a wonderful celebration of your achievements and a tribute to each and every one of you.
"In the year when RCSI was named as the world's number one university for good health and well-being under the UN Sustainable Development Goals, it is fitting that we celebrate the success of our outstanding graduates who join RCSI's community of more than 30,000 alumni working across the world with the shared ambition to lead the world to better health. I wish you every success in your bright and exciting futures."