RCSI to revolutionise medical 3D bioprinting in €2.9m European Innovation Council project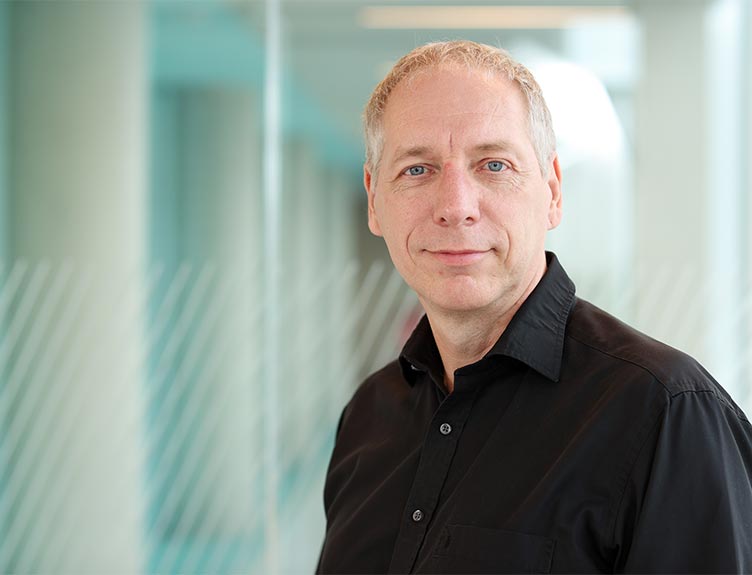 A project led by researchers at RCSI University of Medicine and Health Sciences has received a total of €2.9m in funding from the European Innovation Council's (EIC) Pathfinder programme to develop new materials and technologies for medical applications.
The programme, which is highly competitive, provides support to research teams to research or develop an emerging breakthrough technology.
The POLINA project aims to revolutionise bioprinting, a type of 3D printing that can be used to make structures that imitate natural tissues for safer, smarter and more affordable medical devices. Professor Andreas Heise, Professor at the Department of Chemistry at RCSI and investigator in the SFI Centre for Medical Devices (CURAM) as well as the SFI Centre for Advanced Materials and BioEngineering Research (AMBER), led the proposal for the four-year project, which is due to commence in January 2024.
During its lifecycle, POLINA will combine novel light sensitive natural materials along with cutting-edge 3D printing techniques to develop implantable devices compatible with human cells as well as novel research and development tools.
"Currently, the materials and methods used to make 3D biostructures and devices are limited in the precision they allow," said Professor Heise. "POLINA will use a new material known as light-sensitive polyamino acid (PAA) and combine those with precision 3D patterning techniques known from the microelectronic industry to create unprecedented patterning precision.
"This will result in an innovative technology that can be used in medical devices. In the longer term, it might also open opportunities in next-generation sustainable electronics by replacing currently used petrochemical building blocks."
Demonstrating potential
The project will focus on three examples related to lung disease to demonstrate the potential of the technology. It will create micropatterned cell surface models to help study lung diseases, make special arrays of cell clusters for modeling lung diseases and testing drugs, and design new tracheal implants.
Professor Fergal O'Brien, Deputy Vice Chancellor for Research and Innovation at RCSI, commented on the award: "RCSI's research aims to pioneer innovative solutions that result in new technologies for the benefit of patient health. The POLINA project is a prime illustration of this, and I am delighted that our researchers have led on the application to secure funding in this highly competitive programme."
With POLINA's technology, the team hopes to advance the way medical devices and materials are being developed and open new avenues for wider implementation of innovative technologies, ultimately improving patients' health and well-being.
The project will be driven by a multidisciplinary approach of new and unique academia-industry-clinical partnerships with industry partner 4Dcell working with a team of five academic groups and two subject matter experts from five European countries: Ireland (RCSI), France (4DCell and Centre National de la Recherche Scientifique), Switzerland (accelopment Schweiz AG), Spain (Universidad del Pais Vasco/Euscal Herriko Universitatea and Basque Center for Macromolecular Design and Engineering POLYMAT Fundazioa) and Germany (Ruprecht-Karls-Universität Heidelberg).
These include RCSI colleagues Professor Sally-Ann Cryan from the School of Pharmacy and Biomolecular Sciences and Professor Killian Hurley from the Department of Medicine and Tissue Engineering Research Group.