Investors and entrepreneurs
We encourage experienced entrepreneurs and investors to talk to us about the creation of high potential start-up (HPSU) companies based on RCSI IP or aligned with RCSI's research focus.
Ireland has several Government-funding schemes to support entrepreneurs seeking to create HPSUs based on IP from higher education institutes including the Enterprise Ireland Business Partner Programme.
RCSI's Office of Research and Innovation can advise entrepreneurs on accessing these funding schemes and explain how RCSI can support start-up company formation and the technology transfer process. Please contact us if you are interested in investing in or leading early-stage companies.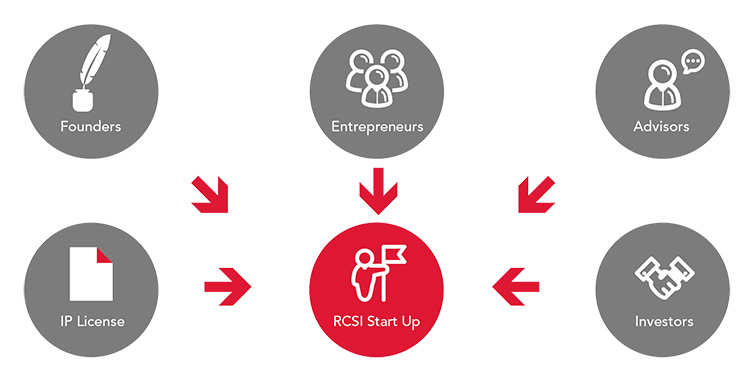 RCSI has a number of pipeline start-up companies currently seeking investment, including:
InnovoSep
InnovoSep, founded by Professor Steve Kerrigan of the RCSI School of Pharmacy, is focused on developing new treatments for sepsis, a disease which is one of the leading causes of critical illness and death worldwide. InnovoSep's lead drug candidate, Cilengitide, is a potent inhibitor of αVβ3 integrin signalling with an excellent PK and safety profile. Cilengitide has been shown to significantly increase survival in a rat in vivo sepsis model by disrupting the mechanism by which pathogens such as S. aureus and E. coli trigger endothelial cell dysfunction which leads to septic shock and organ failure. This novel, non-antibiotic, approach represents a promising new treatment pathway for patients with sepsis.
The €2m seed investment sought will be used to complete GLP pre-clinical studies and GMP scale-up and manufacture of the API. The intention is for the company to then proceed directly to a phase II – proof of concept study in sepsis.
Interested parties please contact Dr Aoife Gallagher
---
ChemoGel
Founded by Dr Helena Kelly of the RCSI School of Pharmacy, ChemoGel is developing a thermoresponsive gel drug delivery platform for targeted delivery of chemotherapeutics to solid tumours of the pancreas.
ChemoGel is an injectable liquid at room temperature and undergoes gelation inside the tumour to provide a localised depot for the sustained release of chemotherapeutics. Local delivery to the tumour greatly increases drug exposure with the benefits of reduced systemic side effects. In pancreatic cancer, ChemoGel offers a solution to the unmet need for non-systemic neoadjuvant treatments to reduce tumour size for non-resectable pancreatic cancer patients to bring them back into the resectable range. ChemoGel is aligned with current treatment pathways and is compatible with standard surgical equipment and imaging systems.
The €1.5m seed investment sought will be used to complete GLP pre-clinical studies and GMP scale-up for the ChemoGel technology. We intend to raise a follow-on Series A round to commence first in man studies in 2021. Early proof of concept in pancreatic cancer will be obtained via a phase 1b trial.
Interested parties please contact Dr Derek John.
ChemoGel: A thermoresponsive drug delivery platform for intratumoral delivery of chemotherapeutics in pancreatic cancer tech summary
pdf | 458.1 kb
---
RCSI has a number of successful start-up companies:
SurgaColl™ Technologies Ltd. has developed a range of regenerative technologies based on almost a decade of world-class tissue engineering research carried out in RCSI. The company's innovative product portfolio is based on a suite of common-platform technologies that offer regenerative solutions in the field of bone and cartilage/osteochondral tissue regeneration.
KelAda Pharmachem was established in 2013 to acquire and develop intellectual assets in the pharmachemical space. The company's model is to in-license and develop novel chemistry into scalable processes which can then be out-licensed to major pharmaceutical players. This development is done by a team of chemists with many combined years' experience of chemical process development and manufacturing.