COVID-19 Student Hub
RCSI's response to COVID-19 and the experience of our current students during the pandemic.
New students will no doubt have many questions about what they can expect when joining us next semester in these continued uncertain times. Our aim is to continue to keep our students safe and well, while also progressing their academic programme and getting everyone closer to graduation.
In planning for next year, we are guided by the best public health advice and we will be ensuring that RCSI sets the highest standards in relation to the health of our students, our staff and the wider community.
Professor Hannah McGee, Dean of the Faculty of Medicine & Health Sciences.
Providing support to our students
At RCSI, protecting our students' health is of the utmost importance. Find out how we have kept our students safe with minimal interruption to their studies.
Learn more

Learn more
Our COVID-19 response in numbers
1,426
RCSI students graduated in 2020 and joined the frontlines
62,000
People accessed our curated COVID-19 surgery web resources by 2021
2,000
RCSI students completed year one of their studies by summer 2021
14,000
qPCR tests carried out in RCSI labs by summer 2021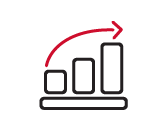 Improved infrastructure
10,624 square feet of new teaching space added to campus for 2020/21 academic year
Online education
25,000 participants signed up for RCSI's new 'Science of Happiness' course by summer 2021
COVID-19 testing
500+ contact tracers accessed RCSI's training course by summer 2021
Simulation research
180 newly inducted medical interns were trained at our RCSI Simulation Centre