Providing support for our students
At RCSI, we're working to provide an engaging experience by keeping prospective students up-to-date ahead of course commencements.
The implications of the pandemic are developing quickly and we'll continue to closely monitor the situation. As this is an evolving situation, we'll keep students updated with any changes that arise.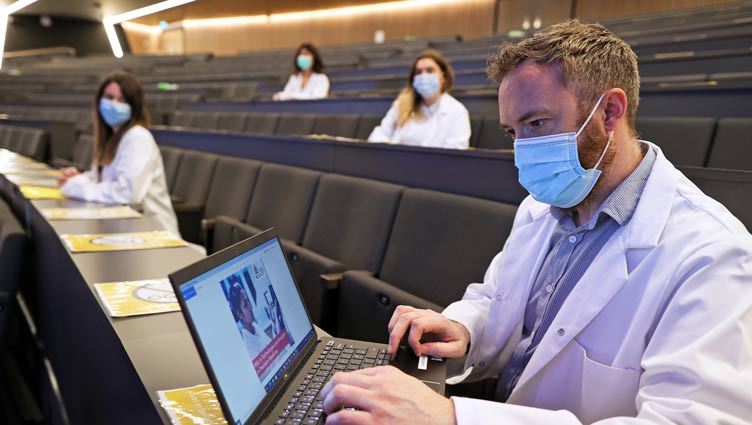 We have provided precautionary ongoing COVID-19 screening tests for students.
We have established an on-site diagnostics laboratory to provide qPCR testing and rapid turnaround of test results.
Our rapid contact tracing system enabled us to quickly identify and control close contacts within the RCSI community.
Our dedicated Student Health Management team managed health and academic needs of students impacted by COVID-19.
RCSI's Mercers Medical Centre managed the clinical care of students with suspected or confirmed COVID-19 cases.
Our COVID-19 Control Administration team managed COVID-19 compliance and the academic needs of our students affected by COVID-19.
Our Student Health Clinic provided COVID-19 testing for our students.
Our Student Welfare team provided support calls for all students affected by a positive COVID-19 diagnosis.
We developed health and safety campaigns in partnership with the Students' Union to encourage responsible behaviour.
Our business continuity planning group and IT super users supported the transition to remote working.
We maximised students' access to face-to-face teaching and clinical experience by redesigning our 2020 curriculum.
We redesigned our campus to ensure in-person education was prioritised within the highest levels of safety.
We rapidly accelerated our digitally-engaged learning to allow hybrid delivery of an engaging educational programme.
We launched a new TeleSim programme to simulate clinical training.
We invested in a new satellite campus at Croke Park to allow face-to-face teaching for second and third year medical students.
We developed learning communities for students to allow small-group teaching.
We delivered greater levels of personal tutoring for students both in person and online.
We maintained in-person access to academic staff and fellow students to foster essential professional and communication skills.
RCSI's library services were maintained with new virtual services and physical spaces expanded for safe individual study spaces.
We maintained frontline services to students including confidential one-to-one support and advice for students from our CoMPPAS Student Welfare team.
Postgraduate researchers and scholars progressed important studies, and professional postgraduate students continued studies off-site, despite the constraints.
60 final year research higher degree scholars adjusted their thesis in light of reduced laboratory access and carried out their viva voce defence online, facilitated by external examiners in locations across the world.
We established BeRCSI and #ThankAColleague initiatives to support positive culture in the University.
We provided volunteering and skill-building opportunities for 70 students as COVID-19 Contact Tracers with the Health Service Executive, many volunteering over the 2020 Christmas holidays.
Our Students' Union launched a 'Student Life HQ' website to promote a range of online Clubs and Societies events.
RCSI's Winter Holiday programme in partnership with the Student Unions supported international students staying in Dublin over the festive break.
Our staff and alumni funded 1,500 RCSI Christmas stockings for a festive night in, including favourite alumni memories of things to do and see in Dublin at Christmas time.
We provided Christmas Eve takeaway dinners, end of semester lunches and festive cakes baked by staff with handwritten greetings to students.
The 2020 final medicine exams were brought forward, enabling 312 future doctors from 32 countries to join the frontline.
Final year Physician Associates (PAs) completed their progamme, bringing the number of RCSI-trained PAs to 34.
In response to the Government's request, 1,378 overseas applicants completed the Aptitude Test to register as a general nurse in Ireland, a 53% capacity increase of applicants.
180 newly inducted medical interns were trained at our RCSI simulation centre.
Our final year physiotherapy students completed exams early to take up critical healthcare roles.
We led the first national online professional registration examination with APPEL, allowing the first cohort of students on our five-year integrated MPharm across RCSI, TCD and UCC to graduate and enter the workforce.
Our postgraduate faculties conducted examinations and provided CPD activities online, enabling candidates to progress in their respective specialties.
RCSI hosted 'Conversations that matter' weekly webinars with the HSE in Ireland and RCSI healthcare experts.
We launched the GP–Surgeons Connect service with the Irish College of General Practitioners, for rapid connection of GPs with surgeon advisors.
Positive mental health training and resources developed by RCSI academics were provided free-of-charge through our dedicated website.
We delivered personal leadership and self-care podcasts to support frontline workers in challenging times.
Our Comfort for Carers campaign provided care packs to ICU staff to help alleviate the occurrence of face mask skin injuries.
We discovered a blood test to predict which COVID-19 patients will develop severe infection.
Our nursing teams developed a treatment to prevent facial pressure ulcers in healthcare staff.
RCSI academics and IT specialists created a digital clinical support tool for COVID-19 that enables hospitals to optimise and scale acute respiratory care.
Researchers at RCSI are investigating blood clotting abnormalities in COVID-19 patients to improve treatments.
We led clinical trials of a therapy for critically ill COVID-19 patients in intensive care.
We developed a programme for facial PPE sterilisation.
Our researchers are conducting trials to detect COVID-19 infection in saliva and exhaled breath condensate.
An RCSI-led study is investigating pathogenesis of COVID-19.
Our clinical staff are developing new treatment regimens to reduce the severity of infection.
We maintained access to labs throughout the pandemic to ensure vital research continued and the progression of our postgraduate healthcare students.
RCSI academics contributed to expert media commentary and public understanding.
Expert commentary and COVID-19 research reached international media including The New York Times, The Guardian, BBC and Australia's Nine News Radio.
We created free online resources to help manage COVID-19 anxiety.
Our RCSI MyHealth public lecture series moved online, offering advice on key well-being issues.
More than 25,000 participants enrolled on the 'Science of Health and Happiness' free online course launched by RCSI's Centre for Positive Psychology and Health.