Your first week at RCSI
Welcome to RCSI and the start of your four, five or six-year College journey.
Your first week on campus will likely be both exciting and nerve-racking, particularly, if this is your first time in Dublin – or even Ireland – but remember your new classmates are experiencing the same emotions and have the same hopes and fears you do.
Luckily, at RCSI we provide plenty of opportunities to settle in and get to know your classmates, lecturers and members of the RCSI support staff during your first week in College.
Your first week in RCSI video
Meet and greet
If you are arriving in Ireland for the first time, we are pleased to offer a free welcome-on-arrival service, including transfer from Dublin Airport to your accommodation in the city.
If you wish to avail of this service you must complete an online application form with our partner, Travel Places, at least seven days in advance of your flight, to ensure your booking is confirmed.
Orientation Day
Orientation Day is your first official day on the RCSI campus and takes place on the first day of each new academic year. In the morning you will attend a series of short lectures, which include a welcome address by your Head of School and the President of the Students' Union (SU).
In the afternoon, you will receive your RCSI starter pack, which includes your new Apple MacBook Air, your RCSI student card – which gives you access to the library, computer labs and other areas on campus – log-in details for RCSI online services and your official RCSI email account.
This is also a good opportunity to meet the RCSI Peer Mentors. The Peer Mentors provide an invaluable resource in the form of friendly, knowledgeable and experienced RCSI students, who are on-hand throughout your first week to offer help and answer any questions you might have about the College, the courses, extracurricular activities and student life in Dublin.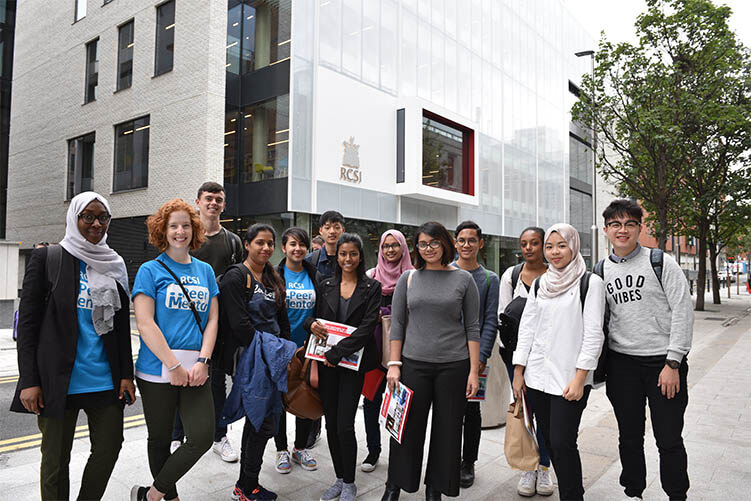 President's Reception
As Orientation Day draws to a close, you and your family will be invited to join the President of RCSI for the President's Reception. This is a great opportunity for your family to join in the excitement of your first day as an RCSI student.
The President is joined by Prof. Cathal Kelly, CEO/Registrar of RCSI who provides an overview of the College and its wider activities, and Prof. Clive Lee, Professor of Anatomy, who offers a whistle-stop tour of the College's fascinating history.
White Coat Ceremony
The White Coat Ceremony generally takes place on the second day of your first week. All RCSI Medicine, Physiotherapy, Pharmacy and Physician Associate students take part in this unique white coat gowning ceremony which symbolises the professional nature of the career on which you are about to embark.
The evening also comprises an awards ceremony for students from Foundation Year through to Senior Cycle in RCSI who have achieved excellence to date, together with a number of short presentations by students, the Dean and members of Faculty.
White Coat Ceremony 2017
Clubs and Societies Signup Day
The RCSI Sports Hall is transformed into a vibrant flurry of activity during Clubs and Societies Sign up Day, with 70+ club and society booths decorated from head to toe to attract new members.
From badminton and yoga to photography and dance, there is something for everyone at this fun event. If you have a club or society in mind this is also a great opportunity to meet some of key members before you meet them on the pitch or in practice.
Freshers' Carnival
Organised by the SU and hosted in the RCSI Sports Grounds in Dardistown, North Dublin, the Freshers' Carnival is the jewel in the crown of Freshers' social events. Enjoy a night of carnival rides and games, listen to live music from an RCSI-led student band and make new friends; the Freshers Carnival is the perfect way to unwind at the end of your first week.