Barry O'Donnell
PRCSI (1998-2000)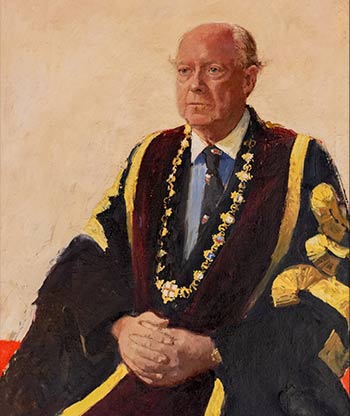 Mr Barry O'Donnell graduated from UCC (1949) and commenced his postgraduate career in the Hospital for Sick Children, Great Ormond Street, London. He received the Ainsworth travelling scholarship from UCC to Lahey Clinic, Boston and later went on to obtain FRCSI and FRCSEng (1953).
As a paediatric surgeon, he held consultant posts in Our Lady's Hospital for Sick Children (1957-1993), Children's Hospital Temple Street (1977-1988), National Children's Hospital, Harcourt Street (1965-1980) and was Professor of Pediatric Surgery, RCSI (1986-1993). Mr O'Donnell held a number Honorary Fellowships, Presidential and Chairman roles, visiting Professor and Bank Directorships. He received the National People of the Year award with Professor Prem Puri (1984), the Denis Browne gold medal from the British Association of Paediatric Surgeons (1989), the Urology Medal American Academy of Paediatrics (2003) and the distinguished Alumni Award UCC (2004).
As President of RCSI, he oversaw major property expansions, introduced the highly successful Mini-Med School and conceived the full-time post of Director of Surgical Affairs, which created a closer symbiotic relationship with the Department of Health.