Declan J. Magee
PRCSI (2014-2016)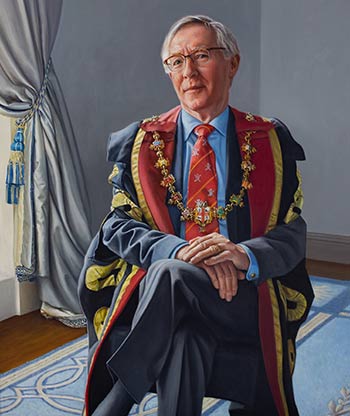 Mr Declan J. Magee, from Irvinestown, Co. Fermanagh, graduated in medicine at UCD in 1973. He trained in surgery in Ireland (FRCSI 1977) and at Guy's Hospital, London and Harvard Medical School, Boston, before taking up a post as Consultant General Surgeon at St Columcille's Hospital, Loughlinstown and Blackrock Clinic, Dublin.
Mr Magee served on the Council of RCSI from 1993 to 2018 and chaired most major committees within RCSI. During that time, he was intimately involved in the governance of surgical practice and training, as well as the many other College activities in the broad field of health sciences education and training. He had a keen interest in medical education, having previously chaired the Academic Council of the RCSI Faculty of Medicine & Health Sciences.
In addition, he was instrumental in the development and evolution of the collaboration between RCSI and the College of Surgeons of East, Central and Southern Africa (COSECSA), a most successful initiative, supported by Irish Aid, which enhances and expands surgical training and, ultimately, the delivery of essential surgical services across this vast region.
During his tenure, 26 York Street was built, a most ambitious project which he had approved while Chair of the Finance Committee. He also oversaw a most successful suite of centenary events, celebrating the varied contributions of the College, its staff and students to the 1916 Rising and World War 1.
In 2016 he launched an Art Award to celebrate the contribution that art makes to the healing process. The award is funded and organised by the RCSI with the RHA.
Mr Magee was awarded Honorary Fellowships by the College of Surgeons of East, Central & Southern Africa, the Royal College of Physicians & Surgeons of Glasgow and the Royal College of Surgeons of Edinburgh.