Gerald C. O'Sullivan
PRCSI 2006-2008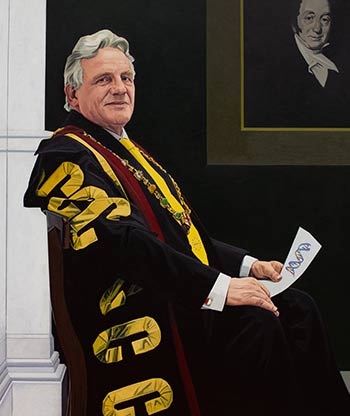 Mr Gerald C. O'Sullivan graduated from UCC (1969) and carried out his postgraduate surgical training in Cork, Dublin, Coventry, Edmonton, and Chicago. He returned to Cork as consultant surgeon to the Mercy Hospital. At an early stage of his appointment as a consultant surgeon, he and his colleagues changed the nature of the Mercy Hospital in Cork from a first-class community hospital to a centre of academic excellence.
Mr O'Sullivan specialist area was the oesophagus and particularly oesophageal cancer. Possibly his greatest and most lasting achievement was the founding in 1999 of the Cork Cancer Research Centre, initially employing two people. He was Director from its inception to the time of his death. He brought speakers from all over the world, including Nobel Prize winner JD Watson, joint discoverer of the structure of DNA, to the Centre.
Mr O'Sullivan was responsible for 229 publications and received numerous awards and achievements. A mentor of the College of Surgeons of East, Central and Southern Africa, honoured by many bodies, the most prized being his Honorary Fellowship of the American College of Surgeons.