James Dermot O'Flynn
PRCSI (1992-1994)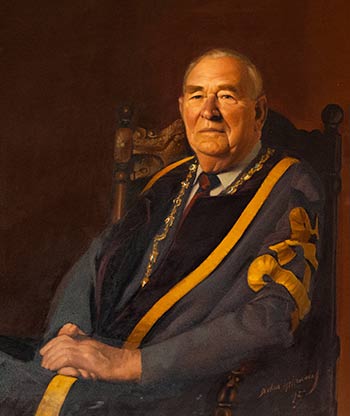 Mr James D O'Flynn graduated from UCC (1942) amd obtained his FRCS(Ed) in 1949. He practised in the Meath Hospital, St Luke's Hospital and St Kevin's (later St James's) Hospital. Mr O'Flynn set the standards of benign prostatic enlargement and the management of the neuropathic bladder, in many parts of the world. His published review of 3,000 prostatectomies was a milestone of great technical surgery. He did extensive clinical work developing the Meath Hospital Urology Department which attracted many overseas trainees to the unit. In addition, he was Lecturer in Urology at TCD.
Mr O'Flynn was elected or government appointed as Board Member or Chairman of all the hospitals he worked in.
A Medical Council Ireland member (1983-1993), he was the first ad eundem FRCSI to be elected President of RCSI. He received the Presidential gold medal from RCS Ed. and was Chairman of the surgical section of RAMI. He was also President of the Irish Society for Urology.