Niall John O'Higgins
PRCSI (2004-2006)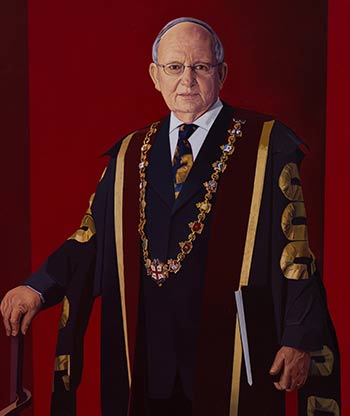 Professor Niall J. O'Higgins graduated in UCD (1965) and his postgraduate career began in St Vincent's Hospital, Dublin before he went on to Portlaoise, Franborough General Hospital, Croydon General Hospital, Royal Cornwall Hospital, Truro and Hammersmith Hospital, London.
Prof. O'Higgins led an extraordinary academic and surgical career; he was registrar and senior registrar in surgery and cancer research and tutor in surgery in the UK and Ireland. He continued as senior lecturer in surgery/honorary consultant surgeon in University College Hospital Medical School, London and teacher and examiner in surgery, University of London.
Returning to Ireland, Prof. O'Higgins received the Chair of Surgery in UCD as well as being a consultant surgeon, and was appointed Professor of Surgery at his alma mater St Vincent's Hospital where he held the chair for 29 years. With a special interest in breast disease, he was responsible for the rollout of the national screening programme for breast cancer. His expertise included thyroidectomy, parathyroid surgery and the parotid – all very demanding areas.
Other appointments included honorary consultant surgeon National Maternity Hospital, Dublin; Consultant and Member of the Scientific Committee, European Institute of Oncology, Milan, Italy. Chairman of the RCSI Clinical Guidelines Committee; Consultant of the National Cancer Screening Service; Chairman of the editorial board of the European Journal of Surgical Oncology; President of the European Society of Surgical Oncology and President of the Federation of European Cancer Societies.
Prof. O'Higgins travelled far and wide as a visiting professor and had a heavy schedule of international meetings and conferences. In 2004, he was made Honorary Fellow of the Bangladesh College of Physicians and Surgeon.