Nigel Alexander Kinnear
PRCSI (1961-1963)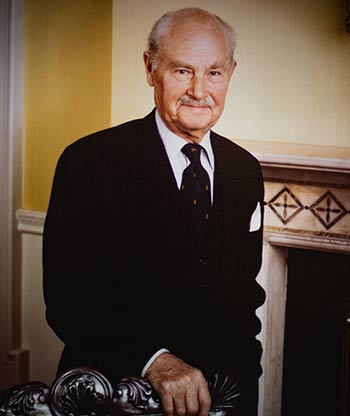 Graduating from TCD, Mr Nigel A. Kinnear was appointed surgeon to the Adelaide (1935) and Dr Steevens' hospitals. He was Resident Medical Officer in the General Hospital, Jersey, Channel Isles and gained surgical experience in Vienna. He went on to be assistant surgeon at St Patrick Dun's Hospital and the Adelaide. He obtained FRCSI in 1934 and lectured in applied anatomy at TCD.
During WWII he received leave of absence to join the Royal Army Medical Corps, where he participated in the allied liberation of the concentration camps in Germany. He claimed the memory of the horrors he witnessed at Belsen-Bergen stayed with him all his life.
A quick and skilful surgeon he later specialised in abdominal and genito-urinary work. He became interested in vascular surgery in 1950s and, together with Patrick (Paddy) Fitzgerald, pioneered the development of vascular surgery in Ireland. He was one of the principal architects of a new intensive care unit, the first in the Republic of Ireland, when it opened at the Adelaide in October 1965.
Mr Kinnear served as Chairman of RCSI's Finance Committee for many years.
In 1982 he received a special commemorative medal from RCSI in recognition of his work on its behalf.