Reginald Arthur Edward Magee
PRCSI 1986-1988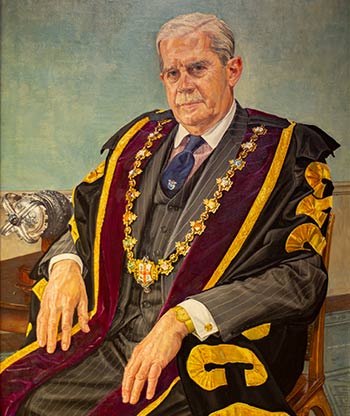 Mr Reginald A.E. Magee graduate from QUB (1937). He then took up a post as a house surgeon and assistant in plastic surgery at North Staffordshire Royal Infirmary, and then returned to Northern Ireland during the war to serve as an air raid precautions casualty officer.
Mr Magee received the FRCSI (1947) and Fellow of Royal College of Obstetrics and Gynaecology (1963). Taking up successive posts as a consultant obstetrician and gynaecologist at the Massereene Hospital, the Antrim hospital, and the Ards he finally joined the Royal Victoria, Royal Maternity and Ulster Hospital for Women and Children, Belfast as consultant obstetrician and gynaecologist.
Mr Magee was a Council Member of the Royal College of Gynaecologists; member of NI Hospital Authority and Senate member of QUB (1979-1982) and held honorary fellowships of the American College of Surgeons and the Royal Australasian College of Surgeons. He was author of the clinical reports of hospital he served (1963-1977). In the 1970s, Mr Magee was also an active unionist politician in Northern Ireland.
In 1989 he was awarded the CBE award for his services to medicine.