Terence John Millin
PRCSI (1963-1966)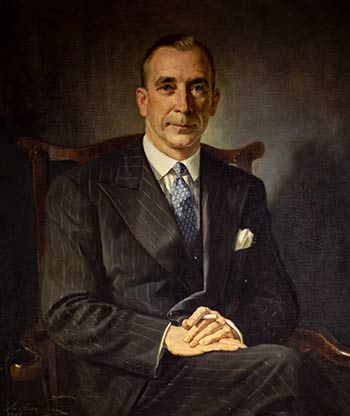 Graduating from TCD, Mr Terrence J. Millin undertook a house surgeon post at Sir Patrick Dun's Hospital, and from there travelled to London to continue his surgical career. After various posts undertaken to increase his experience and knowledge, he took the FRCSEng (1928). He then took up a position in London's All Saint's Hospital becoming assistant to Canny Ryall, a Trinity graduate who had set up this 11-bed, purely urological hospital. Here, Mr Millin developed his interests in matters of the genitourinary tract.
In 1945, Mr Millin published his landmark paper 'Retropubic prostatectomy: a new extra visceral technique', in The Lancet. The new operation for removal of the enlarge obstructing prostate gland was a huge advance on existing methods and reduced death from open prostatectomy from perhaps 15% to 3%. Mr Millin became world famous almost overnight. His contribution to male health was recognised in 1955 with the receipt of the prestigious Francis Armory Prize, awarded by the American Academy of Arts and Sciences. Further honours included the Saint Peter's Medal, the British Association of Urological Surgeon's highest award in 1951, and becoming that society's first Irish President in 1954. He was also made an honorary fellow of the Australasian College of Surgeons in 1968, and was appointed as honorary member of the American College of Surgeons.
Upon his retirement, he returned to Ireland and was elected President of RCSI for an unprecedented two terms 1963-1966. He was instrumental in rejuvenating the undergraduate part of the College. When he retired from the Council (1974) RCSI established the annual MR Millin Lecture in his honour (1979).
A keen rugby player, he was selected to play for Ireland in an international match against Wales 1925.