Thomas George Wilson
PRCSI (1958-1961)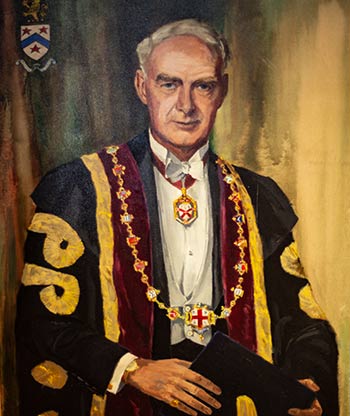 Graduating from TCD, Mr Thomas George Wilson was appointed assistant surgeon at Baggot Street Hospital and surgeon at Dr Steevens' Hospital. In due course he also joined the staffs of Drumcondra, Mercer's and the National Children's Hospitals.
Mr Wilson was a keen writer and researcher publishing extensively on ENT-related subjects, mostly in the Irish Journal of Medical Science. He wrote a textbook, Diseases of the Ears, Nose and Throat in Children (1955), which went to a second edition (1963). He developed an interest in the life and illnesses (including deafness) of Anglo-Irish author, Jonathan Swift and published papers on the subject in the Irish Journal of Medical Science and the Dublin Magazine. It is for his biography of Sir William Wilde, Victorian Doctor (1942, republished 1974), his talent as an illustrator and watercolourist, that he is chiefly remembered. This biography earned Mr Wilson an honorary D.Litt. from TCD (1941).
Mr Wilson become a member of RCSI Council (1944) and later served as Vice-President (1956–7), secretary and honorary librarian. He was active in fund-raising and in the purchase of property which facilitated the later expansion of the RCSI campus and postgraduate medical studies.