Promising new drug shows potential to stop progression of sepsis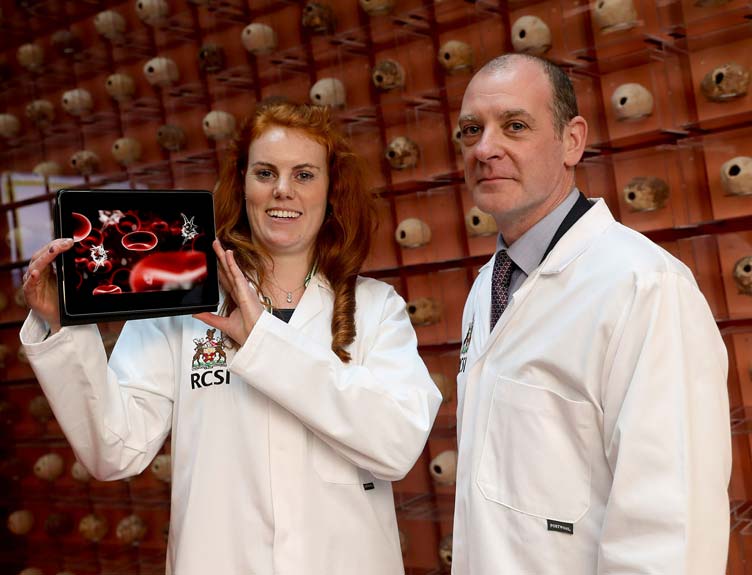 Research into a new breakthrough therapy in the fight against sepsis has shown that the drug has potential to stop all sepsis-causing bacteria from triggering organ damage in the early stages of the condition.
The pre-clinical trial of InnovoSep, carried out by researchers at RCSI, has demonstrated that the drug also has the potential to stop progression of sepsis to multiple organ failure in the later stages.
The study is being presented today at RCSI Research Day 2019 by Dr Sinéad Hurley, a Postdoctoral Fellow at the School of Pharmacy and Irish Centre for Vascular Biology, RCSI.
Principal Investigator on the research, Professor Steve Kerrigan, Associate Professor in Pharmacology at RCSI and inventor of InnovoSep said: "Sepsis occurs when an infection gets into the bloodstream and our own body's defence system spins out of control trying to fight the infection, which results in multiple organ failure if untreated.
"There is only a short window of opportunity for treatment of sepsis with the early administration of antibiotics and fluid. However, in many cases antibiotics are not effective due to drug resistance or delays in identifying the type of bacteria that has caused the infection. Therefore, there is a need for a non-antibiotic therapy that can be used at all stages of infection against all bacterial causes of sepsis".
Identification of a new therapy such as the InnovoSep drug candidate is critical as current research from the World Sepsis Alliance suggests that the incidence of sepsis is growing annually by 8%.
Professor Kerrigan continued: "Our research has shown the InnovoSep candidate drug can prevent sepsis progression early or indeed treat advanced sepsis. The drug appears to act by preventing the bacteria from getting into the bloodstream from the site of infection by stabilising the blood vessels so that they cannot leak bacteria and infect the major organs.
"The promising results of the InnovoSep pre-clinical trial gives hope for a new non-antibiotic treatment of this condition that could be effective in both the early and more advanced stages of sepsis which results in almost 3000 deaths in Ireland each year," Professor Kerrigan said.
Sepsis, otherwise known as blood poisoning, is a silent killer because it is unpredictable, rapid and can go undiagnosed due to its non-specific signs and symptoms. It is critical that the public are empowered with the knowledge of spotting signs and symptoms of sepsis so that rapid treatment can be initiated. The signs and symptoms of sepsis mimic those of the flu - high temperature, rapid heart rate, rapid breathing, pain, pale or mottled skin, and feeling generally very sick. The main difference between sepsis symptoms and flu is that sepsis will come on very quickly whereas flu comes on over days.
Any type of infection can cause sepsis ranging from seemingly minor infections on the skin, urinary tract infections, pneumonia or appendicitis - even a simple cut, scrape, or break in the skin can allow bacteria to enter the body and potentially lead to sepsis.
Currently there are almost 15,000 cases of sepsis each year in Ireland with almost 3000 deaths. In Ireland sepsis kills more people than either heart attack, lung cancer, colon cancer or breast cancer. A staggering 60% of all hospital deaths has a sepsis or infection diagnosis.
Further information on InnovoSep can be found on the RCSI website.
The Innovosep pre-clinical trial is supported by the Enterprise Ireland Commercialisation Fund. The intention is to form a spin out company for the further clinical development of this technology. Further information for potential investors is available from RCSI's Head of Innovation, Dr Aoife Gallagher.
The research is among the innovations being presented at RCSI's annual Research Day provides scientists with the opportunity to showcase their most recent research findings. The latest advances in biomedical sciences, clinical research, population health sciences, healthcare delivery and health professions education are just some of the topics featured in studies which will be presented today to more than 300 researchers who are expected to attend.
Highlights of the day include the John J Ryan Distinguished Lecture entitled 'New materials for regenerative medicine and ultrasensitive biosensing' which will be delivered by Professor Molly Stevens, Professor of Biomedical Materials and Regenerative Medicine at Imperial College London.
Professor Ray Stallings, Director of Research and Innovation at RCSI said: "RCSI's annual Research Day is a vital platform for highlighting the scope of research and innovation taking place across the different disciplines in the College, particularly amongst young researchers. We are committed to nurturing world-class research that can translate into treatments and benefits for patients and society, beginning at undergraduate level right up to the highest-calibre research-active academic staff.
"RCSI's Research Showcase recognises a selection of RCSI's ground-breaking innovators and highlights some leading researchers within RCSI who have been awarded major international funding and are making impactful contributions to research that is improving human health."
The emphasis for RCSI Research Day is on research presentations by investigators early in their career, post-doctoral fellows, post-graduate and undergraduate students and academic staff. All oral presentations and poster presentations will be judged and awards will be presented at a ceremony later this evening. RCSI's Office of Research and Innovation will also present the CEO Innovation Awards at Research Day 2019.
For further information on RCSI Research Day 2019 visit the RCSI Research Day website.