Portraits of nine trailblazing academic leaders unveiled at RCSI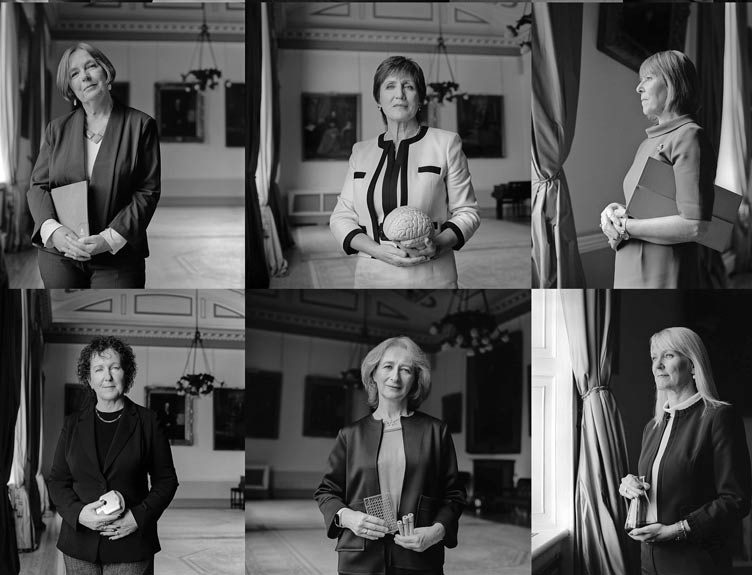 A new collection of nine contemporary photographic portraits of leading academic staff has been officially unveiled at RCSI. The portraits, by photographer Amelia Stein, recognise and celebrate the achievements of the extraordinary academic staff at RCSI.
The series was created by Amelia Stein, winner of the RCSI Art Award 2018 in association with The Irish Times and the Royal Hibernian Academy (RHA) Annual Exhibition. Complementing the Women on Walls collection which commemorates historical female leaders in healthcare, the portraits were commissioned by RCSI to enhance female representation across the University and to capture and honour the character and contributions of valued members of staff.
Professor Cathal Kelly, Chief Executive, RCSI, said: "We are committed to showcasing the achievements of our female academic leaders, providing inspiration for current and future generations of students and promoting gender diversity in higher education and healthcare. By raising the visibility of trailblazing colleagues who make significant contributions to education, research and healthcare here at RCSI, we create role models for future generation which we know is critical in promoting greater female representation. These portraits mark a significant place on our journey towards embedding a culture of equality, diversity and inclusivity throughout RCSI."
Aíne Gibbons, Director of Development, Alumni Relations and Chair of the RCSI Art Committee, said: "We are delighted to add these wonderful portraits of RCSI's great women leaders to RCSI's art collection. I would like to congratulate Amelia Stein on this inspirational series of portraiture. We hope these portraits will inspire future generations and returning alumni."
The RCSI Art Award was established in 2016 to celebrate the common heritage of RCSI and the RHA and the long-standing association between art, medicine and wellbeing.
Both RCSI and the RHA have Georgian origins and are 32-county bodies. RCSI was occupied, while the RHA was destroyed in the Easter Rising of 1916 and the RCSI Art Award was established to coincide with the centenary of these historic events. Past winners of the award include Remco de Fouw (2016), Miranda Blennerhasset (2017) and Mary A. Kelly (2019).
The nine trailblazers featured:
Professor Marie Guidon, Foundation Head of School of Physiotherapy

Professor Anne Hickey, Professor of Psychology and Deputy Dean for Positive Education

Kate Kelly, Director Library Services, RCSI Library

Professor Hannah McGee, Dean of the Faculty of Medicine and Health Sciences

Professor Zena Moore, Professor and Head of the School of Nursing and Midwifery

Professor Niamh Moran, Head of School of Postgraduate Studies

Professor Mary Leader, Head of Department of Pathology

Professor Tracy Robson, Professor and Head of the School of Pharmacy and Biomolecular Sciences

Professor Teresa Pawlikowska, Director of Health Professions Education Centre
About the artist
Born in 1958, Amelia Stein lives and works in Dublin, where she has established herself as a singularly exacting photographer whose work is characterised by meticulous attention to detail in tandem with the attributes of fine black and white photography.
As a performing arts photographer, Stein has worked in theatre and opera in Ireland from 1979 to 2000. Her signature black and white photography has featured widely in the music Industry and she was elected a member of the RHA in 2004 and of Aosdána in 2006. Fore more information, visit ameliastein.com.
...