RCSI leads projects in COVID-19 Rapid Response Research and Innovation funding call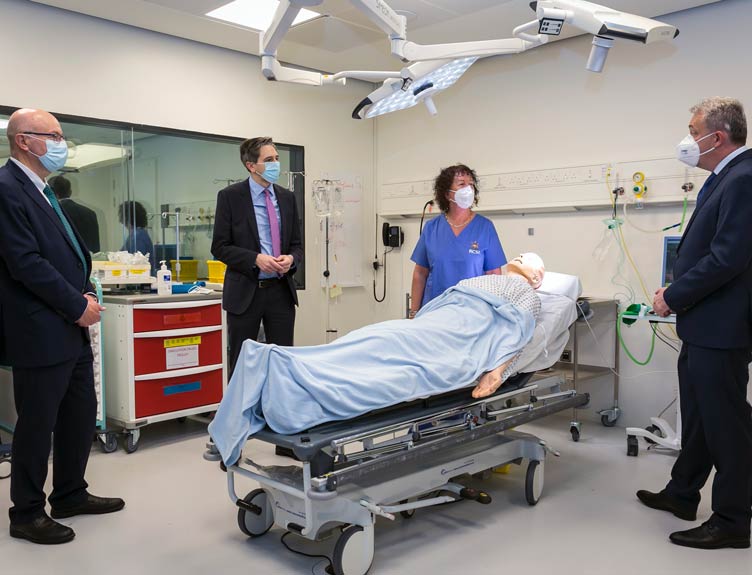 RCSI researchers will conduct studies on personal protective equipment (PPE) for frontline workers and new COVID-19 diagnostics under the Science Foundation Ireland-led COVID-19 Rapid Response Research and Innovation programme. Minister for Further and Higher Education, Research, Innovation and Science, Simon Harris, TD, announced the projects today as part of an investment of €5.5 million in 41 projects.
The RCSI-led projects include 'Preventing healthcare staff facial pressure ulcers in a COVID-19 ICU'. Professor Zena Moore, Professor and Head of the School of Nursing and Midwifery and her team at the Skin Wounds and Trauma (SWaT) Research Centre, RCSI are carrying out a study to rapidly implement and evaluate a clinical solution specifically tailored for ICU healthcare staff to reduce the incidence of facial pressure ulcers and infection and to improve comfort when wearing PPE. In collaboration with Irema, the team will also investigate how the solution could be incorporated into the current facemask manufacturing and distribution chains.
Professor Donal O'Shea, Professor and Head of Department, Chemistry, RCSI is leading a study, 'National roadmap for facial PPE sterilisation', in collaboration with the National Orthopaedic Hospital, Cappagh and Zehnacker Healthcare Ireland. This innovative research project, which will be guided by the views of healthcare staff surveyed as part of the project, will build the framework to deliver a national medical facemask sterilisation programme. As part of the project, the team will develop validated use of vapour hydrogen peroxide (VPH) and investigate the innovative use of steam sterilisation (autoclaving) for the decontamination of facial PPE.
Professor Bryan Hennessy, Honorary Clinical Senior Lecturer, Department of Medicine, RCSI is leading a project on 'Detection of COVID-19 infection using exhaled breath condensate'. The study will investigate a non-invasive breath test for COVID-19 that has been used to detect biomarkers for other conditions. The new test may offer a more accurate alternative to nose and mouth swab tests in the diagnosis of COVID-19 and decrease the number of false negative results.
RCSI researchers are also collaborators on a further three funded projects:
AptaGold – a rapid saliva-based COVID-19 screening assay led by Dr Niamh Gilmartin and Dr Steve Meaney, TU Dublin in collaboration with Dr Fidelma Fitzpatrick, Consultant Microbiologist, Beaumont Hospital and RCSI and Dr Eoghan De Barra, Consultant Infectious Disease Physician, Beaumont Hospital and RCSI.
Safe PPE – tools for improved HCW safety led by Dr Joan Cahill, Trinity College Dublin in collaboration with Dr Fidelma Fitzpatrick, Consultant Microbiologist, Beaumont Hospital and RCSI.
Irish Coronavirus Sequencing Consortium led by Prof. Paul Cotter Food Biosciences Teagasc in collaboration with Dr Fidelma Fitzpatrick, Consultant Microbiologist, Beaumont Hospital and RCSI.
Professor Fergal O'Brien, Director of Research and Innovation at RCSI, said: "As a focused health sciences university, RCSI's clinicians and scientists have been at the forefront of the global and national response to COVID-19. Our researchers are already established as leading innovators in wound care, infection control and diagnostics and today's funding announcement will harness this expertise to address urgent needs for frontline workers and patients in the wake of COVID-19."
Announcing the awards, Minister Harris said: "Today I am pleased to announce a further investment of €5.5m in research and innovation related to COVID-19. It is clear this virus is with us for a significant period of time and yet we still have a lot to learn about it. Research, development and innovation will play a significant role in tackling the COVID-19 pandemic.
"The 41 projects announced today are part of a national drive to find solutions to the challenges we face now, and to help us prepare to live in a changing environment that requires new thinking and innovative approaches. I would like to congratulate all of the researchers receiving funding today and thank them for their efforts in Ireland's collective response to COVID-19."
Commenting on the awards, Professor Mark Ferguson, Director General, SFI and Chief Scientific Adviser to the Government, said: "The COVID-19 Rapid Response Research and Innovation funding is critical to supporting Ireland's National Action Plan in response to the pandemic. The projects announced today will play a pivotal role in developing societal and economic solutions to challenges we face. This is the fourth announcement of COVID-19 funding from SFI to support research projects across a number of Higher Education Institutes. In the global response to COVID-19, collaboration and partnership are key, so I am delighted that funding for 41 more outstanding projects is announced today. As a nation, we are stronger when we work together, and we will continue to generate solutions to the many challenges presented by the COVID-19 pandemic."
The COVID-19 Rapid Response Research, Development and Innovation programme was established by SFI, Enterprise Ireland, IDA Ireland, the Health Research Board and Irish Research Council. Today's announcement builds on SFI's previous investment of €8m across 17 COVID-19 research and innovation projects. All of the projects funded have been internationally peer reviewed at the assessment stage.