RCSI's 40th Annual International Nursing and Midwifery Conference opens online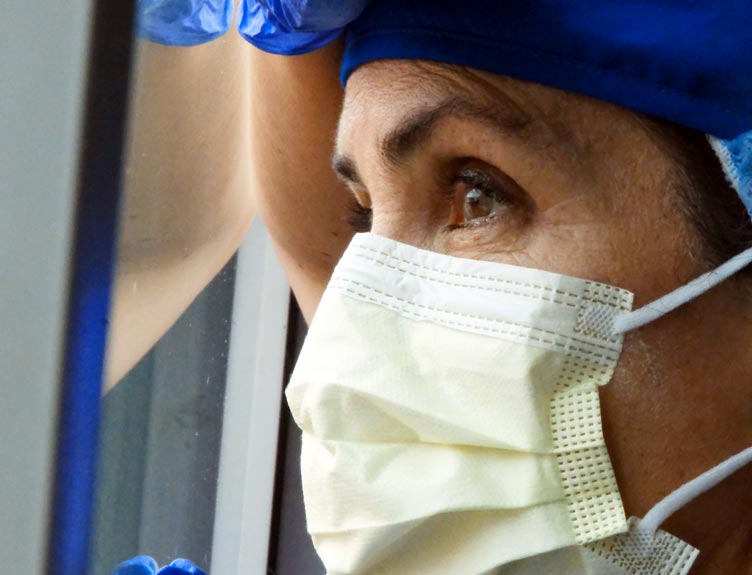 The RCSI Faculty of Nursing and Midwifery opened its annual conference this week, for its 40th year and first time being held online. Over a two-week period until 3 March 2021, global experts in nursing and midwifery will share their insights and learnings with over 1,200 nurses and midwives from approximately 50 countries. The conference content will be livestreamed for free to registered attendees.
The theme for this year's conference is 'Meeting the Needs of Modern Healthcare'. Global experts from organisations such as the World Health Organization (WHO) and the Royal College of Nursing in the UK will explore this theme in sessions on workforce planning, service redesign, and recovery and wellness in a COVID-19 world.
Professor Michael Shannon, Dean of the Faculty of Nursing and Midwifery, said: "In recognition of the contribution of nurses and midwives to healthcare, and particularly their exceptional commitment during COVID-19, the faculty is delighted to host the 40th annual conference.
"Nurses and midwives from all disciplines make up 50% of the global workforce and play a critical role in the health and wellbeing of our communities. The COVID-19 pandemic has had a huge impact on the sector and on its professionals. The conference will play a critical role in the sharing of information and will support nurses and midwives and inform health policy in the months and years ahead."
A key highlight of the programme is a discussion on "Recovery & Wellness in a COVID-19 World". This session examines the impact of COVID-19 on nurses and midwives and the strategies to support them. The session involves contributions from:
Professor Jean Watson, Founder, Watson Caring Science Institute; Distinguished Professor and Dean Emerita, University of Colorado, USA
Professor Mary Jo Kreitzer, Director, Earl E. Bakken Center for Spirituality and Healing and Professor, School of Nursing, University of Minnesota, USA
Sheila McClelland, Chief Executive Officer, Nursing and Midwifery Board of Ireland (NMBI)
Professor Ciarán O'Boyle, Professor of Psychology & Founding Director, RCSI Centre for Positive Psychology and Health, Dublin, Ireland
Other speakers at this year's conference include: Jim Campbell, Director at WHO, who will present on how the sector can mobilise to accelerate the COVID-19 recovery; Rachel Kenna, Chief Nursing Officer at the Department of Health in Ireland, who will explore how nurses and midwives can lead on the delivery of Sláintecare; Dame Dona Kinnair, Chief Executive and General Secretary at the Royal College of Nursing in the UK; and Dr Geraldine Shaw, Office of the Nursing & Midwifery Services Director, Health Service Executive, Ireland.
The 'Service Redesign' session on Thursday, 25 February will explore the future of Sláintecare, and the role of nurses and midwives in its implementation. This session will examine service delivery for people with intellectual disabilities and the lessons that can be learnt from the experiences of the health services in Northern Ireland. Speakers include:
Ms Laura Magahy, Executive Director, Sláintecare Programme Implementation Office, Department of Health, Ireland
Professor Owen Barr, Professor of Nursing and Intellectual Disabilities, School of Nursing, Ulster University, Northern Ireland
Ms Annette Kennedy, President, International Council of Nurses (ICN), Switzerland
Ms Margeret Quigley, National Lead for Midwifery, Office of the Nursing & Midwifery Services Director, Health Service Executive, Ireland
Over the course of the conference, 70 presentations from global experts will take place. Over 80 posters will be presented in six streams demonstrating best practice and research as follows:
Stream One: Critical and Intensive Care Nursing
Stream Two: Innovations in Clinical Practice
Stream Three: Education, Learning and Assessment
Stream Four: COVID-19 National and International Perspectives
Stream Five: Professional Issues in Contemporary Practice
Stream Six: Oncology, Palliative and Ethical Care
To register to attend, visit this page or follow the event on Twitter at @RCSI_FacNurMid and #FNMConf2021.
Established in 1974, the RCSI Faculty of Nursing and Midwifery plays a pivotal role in leading and supporting the development of the nursing and midwifery professions nationally through the delivery of transformative learning experiences, impactful research in the areas of professional development and supporting the contribution of nurses and midwives to healthcare and societal well-being. Recently, the faculty has focused on the expansion of its strategic impact on the national and the international arena through exciting collaborations and alliances with leaders, researchers and influencers from global organisations.