RCSI researcher awarded Royal Academy of Medicine Ireland Donegan Medal
Ms Danielle Nader, PhD student in the Cardiovascular Infection Research Group at RCSI University of Medicine and Health Sciences, has been awarded the 2021 Royal Academy of Medicine in Ireland (RAMI) Donegan Medal.
Ms Nader received the award for her presentation at the Section of Biomedical Sciences annual meeting held virtually from UCD on Wednesday, 3 February. The meeting featured a high-calibre scientific programme of research within the biomedical field that is currently running in Ireland.
The Donegan Medal competition is open to all postgraduate students presenting research for the first time at a meeting or conference.
Ms Nader won the competition for her groundbreaking research into the identification of a novel motif in the spike protein of SARS-CoV-2 that mediates vascular damage during COVID-19.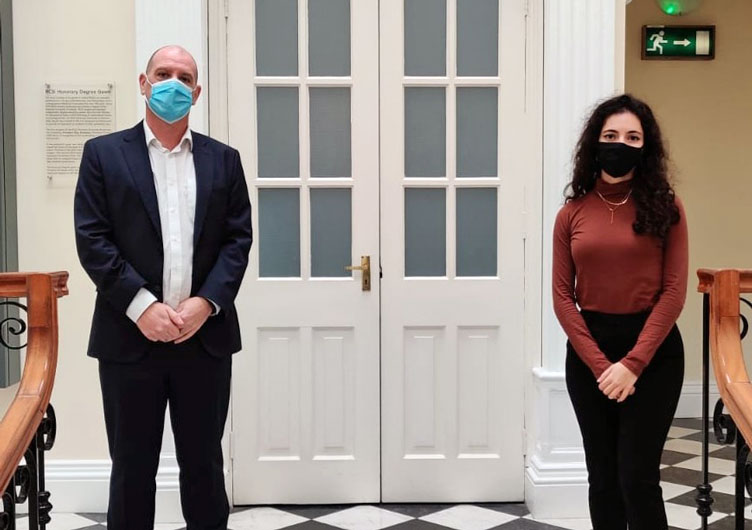 Growing evidence suggests that microvascular occlusion within the lungs plays an important role in COVID-19 pathogenesis. Post-mortem studies have demonstrated widespread microthrombi throughout the pulmonary vasculature in patients with fatal COVID-19, as well as right ventricular dysfunction in critically ill COVID-19 patients being common.
Data from autopsy studies in COVID-19 has identified marked vascular endothelial cell apoptosis, together with loss of tight junction integrity in the pulmonary microvasculature, while electron microscopy studies have shown SARS-CoV-2 viral particles within pulmonary endothelial cell, suggesting that direct pulmonary endothelial cell infection is important in triggering COVID-19-associated vasculopathy.
Ms Nader's research addresses this problem by unravelling the mechanism through which SARS-CoV-2 is capable of binding to human vascular endothelial cells to induce this damage.
Under the supervision of Professor Steve Kerrigan, she identified a drug that prevents this vascular injury. RCSI pipeline spin-out company InnovoSep Therapeutics plans to trial this drug as a potential higher order therapy for the treatment of vascular damage in COVID-19.
Ms Nader's research is currently funded by the RCSI StAR programme, Enterprise Ireland, 3M and Global Giving.