New treatment can reduce risk of PPE facial injuries in frontline healthcare workers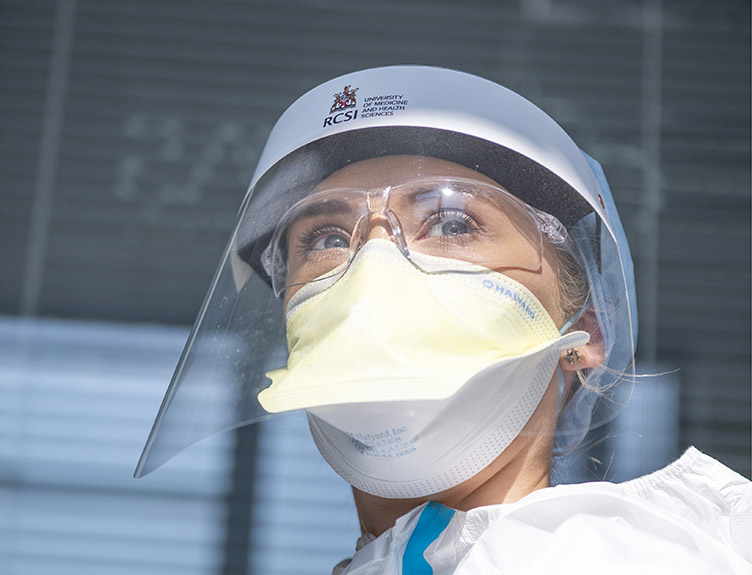 A study has found that a new 'care bundle' can reduce the incidence of Facial Pressure Injuries (FPIs) in frontline COVID-19 healthcare workers caused by the prolonged wearing of Personal Protective Equipment (PPE).
The study, led by researchers from RCSI University of Medicine and Health Sciences Skin Wounds and Trauma (SWaT) Research Centre, is published in the current edition of Journal of Wound Care.
The research took place over a two-month period amongst healthcare workers in a large acute hospital in Ireland. Approximately 300 frontline staff were provided with a care bundle, designed in line with international best practice and comprising of face cleansing material (WaterWipesTM baby wipes), moisturising balm (Eucerin Aquaphor Soothing Skin BalmTM) and protective tape (Mepitac Tape).
Results showed that prior to using the care bundle 29% of respondents developed FPIs, whereas after using it only 8% of respondents developed FPIs. The analysis revealed that users of the care bundle were almost five times less likely to develop a FPI. In a secondary finding, staff reported that the bundle was easy to use, safe and effective.
Professor Zena Moore, SWaT Researcher Centre Director and Head of the RCSI School of Nursing and Midwifery, was the lead researcher on the study. Prof. Moore said: "We are acutely aware of the facial injuries, such as pressure ulcers, bruises and skin tears that healthcare workers are experiencing due to the prolonged wearing of protective equipment during the pandemic and especially the wearing of medical face masks. These injuries can be painful for staff and injuries, in some cases, can put them at increased risk of infection. This study is the first of its kind carried out at the height of the pandemic in an effort to help mitigate the occurrence of Facial Pressure Injuries. The results tell us that when skincare is prioritised, and a systematic, preventative care bundle approach is adopted, there are clear benefits for the frontline workers and the workplaces involved."
The SWaT study was carried out in collaboration with two skincare companies: WaterWipes UC in Ireland contributing the cleansing wipes and Beiersdorf in Germany providing the moisturiser. Fleming Medical in Ireland distributed the tape.
Part of RCSI's School of Nursing and Midwifery, the SWaT Research Centre is leading cutting-edge research in the field of wound healing and tissue repair, with a specific emphasis on pressure ulcer prevention and management.
---
Acknowledgements
WaterWipes UC (for WaterWipesTM baby wipes)
With headquarters in Drogheda, Ireland and regional offices around the world, WaterWipes is now a global business, selling the 'World's Purest Baby Wipes' in over 50 countries. WaterWipes has over 250 people working together to bring its products to more and more parents in every corner of the globe.
A business built on innovation and developing new product ideas drives the company forward. WaterWipes has great ambitions to expand its range by using its unique water technology and process to create new products that clean and care for what is most precious to its consumers, using as few ingredients as possible.
Beiersdorf (for Eucerin Aquaphor Soothing Skin BalmTM)
Beiersdorf AG is a leading provider of innovative, high-quality skin care products and has over 135 years of experience in this market segment. The Hamburg-based company has about 19,000 employees worldwide and is listed on the DAX, the German benchmark equities index. Beiersdorf generated sales of €7.1 billion in financial year 2017. Its product portfolio comprises strong, international leading skin and body care brands including NIVEA – the world's largest skin care brand – Eucerin, Hansaplast/Elastoplast, and La Prairie. Millions of people around the world choose the Beiersdorf brands every day for its innovative, high-quality products. Further renowned brands such as Labello, Florena, 8x4, Hidrofugal, atrix, Aquaphor, SLEK, and Maestro round off the extensive portfolio. Beiersdorf's wholly-owned affiliate tesa SE, another globally leading manufacturer in its field, supplies self-adhesive products and system solutions to industry, craft businesses, and consumers.
Fleming Medical (for Mepitac Tape)
Established in 1986, Fleming Medical is a leading medical supplies company, based in Limerick, with over 50 staff and a customer base spanning across Ireland, the UK and a wide range of countries worldwide. Fleming Medical provide a complete range of medical equipment and medical consumables to hospitals, nursing homes, GP surgeries, emergency services plus primary and community care facilities as well as supplying an extensive range of OTC goods to pharmacies and retail wholesalers, both in Ireland and abroad.