Professor Hannah McGee and Professor Mary Cannon honoured with membership of the Royal Irish Academy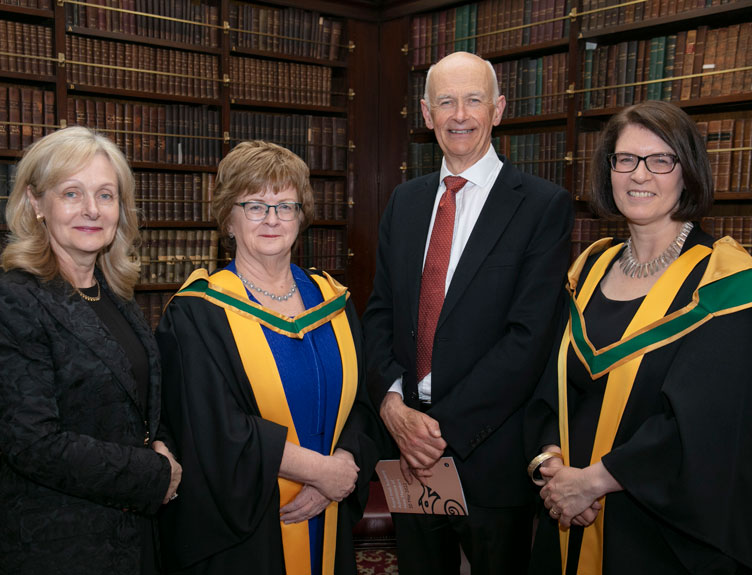 Professor Hannah McGee and Professor Mary Cannon, RCSI University of Medicine and Health Sciences, have been elected as Members of the Royal Irish Academy (MRIA), Ireland's foremost body of experts in the sciences and humanities.
Professor Cannon, Consultant Psychiatrist and Professor of Psychiatric Epidemiology and Youth Mental Health at RCSI, and Professor McGee, Deputy Vice Chancellor for Academic Affairs at RCSI, were formally admitted as members of the RIA at a ceremony in Dublin today.
Professor McGee is a distinguished scholar in psychology, specifically psychosocial aspects of health. Committed to translational research, Professor McGee has been Principal Investigator on many national interdisciplinary health-related projects, earning almost €17 million in peer-reviewed grant income. Within RCSI, she has fostered collaboration across cognate disciplines since she joined in 1987, becoming founding Chair, Division of Population Health Sciences in 2006, and Dean of the Faculty of Medicine & Health Sciences in 2010.
As RCSI's Deputy Vice Chancellor for Academic Affairs, Professor McGee is responsible for the quality of degree-awarding activities in RCSI's campuses in Dublin, Bahrain, Dubai and Malaysia. She has held many leadership roles institutionally, nationally and internationally, and was recently appointed as a member of the national Public Health Reform Expert Advisory Group.
Professor Mary Cannon is a leading researcher in youth mental health and childhood and adolescent risk factors for mental illness with a particular interest in psychosis and psychotic experiences in youth. Her research was the first to demonstrate the link between cannabis use, childhood trauma and the risk of psychotic experiences, and her papers on the relationship between early cannabis use and later psychosis have been cited more than 600 times. Overall, Professor Cannon has published over 200 papers and was listed as a Clarivate Highly Cited Researcher in both 2020 and 2021.
Professor Cannon has received many prestigious awards from the Health Research Board, the Wellcome Trust and the European Research Council, and served on numerous grant panels and governmental committees, including the task force on Youth Mental Health.
Congratulating Professor McGee and Professor Cannon on their admittance, Professor Cathal Kelly, RCSI Vice Chancellor, said: "The RIA is Ireland's most prestigious academic body and election to its cohort of members is the highest academic accolade in the country. To have two RCSI representatives elected to the Academy this year is a huge honour. It is testament to the extensive, impactful contributions to Irish and international science and academia that Professors McGee and Cannon have made over their careers in psychiatry, psychology and higher education, and the important work they continue to do for the benefit of society and to inspire the researchers and health professionals of the future."
Dr Mary Canning, President of the Royal Irish Academy, said: "We are immensely proud of these 29 new Members who we are recognising today for their scholarly achievements, their research and international distinction or for significant contributions to Irish society. As new Members of the Academy, they will contribute to and strengthen our capacity to provide expert advice on Higher Education and Research policy."
The RIA was founded by charter in 1785 for the advancement of learning and scholarship in Ireland. A small number of new members from a variety of institutions and disciplines are elected to the RIA each year. Eligible candidates must have a proven track record in engaging colleagues and attracting scholarly interest internationally, demonstrated either through the production of high impact, novel and outstanding quality publications or through other academic achievements or notable contributions made to the field. At present, the Academy has more than 600 members, elected in recognition of significant academic achievements and exceptional contributions to education and/or research.