RCSI's first female microbiology professor honoured in naming ceremony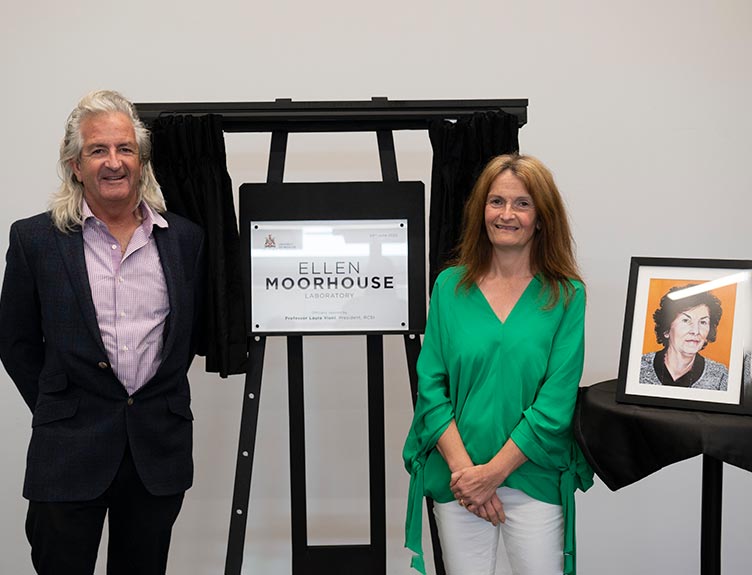 The Department of Clinical Microbiology at RCSI University of Medicine and Health Sciences has renamed its laboratory in honour of the late Professor Ellen Moorhouse.
In a ceremony today at the RCSI Education and Research Centre at Beaumont Hospital, RCSI President Professor Laura Viani unveiled a plaque to mark the official naming of the 'Ellen Moorhouse Laboratory'.
Professor Ellen C. Moorhouse was born in Dublin in 1928 and studied at RCSI before working in hospitals in Ireland and England. The RCSI Department of Clinical Microbiology was opened in 1965, and in 1967 Professor Moorhouse became the first female Clinical Sciences Professor at RCSI with her appointment as Chair of Microbiology. She continued working at RCSI and Beaumont Hospital until her retirement in 1995.
Today, Professor Moorhouse's portrait is displayed in RCSI's St Stephen's Green campus, and the Ellen Moorhouse Prize in Clinical Microbiology is awarded annually to an undergraduate medical student.
RCSI President, Professor Laura Viani, commented: "It is my great honour to unveil the plaque officially naming the Ellen Moorhouse Laboratory at the RCSI Department of Clinical Microbiology at Beaumont Hospital. In the almost 30 years that Professor Moorhouse worked at RCSI, she taught and inspired countless generations of healthcare professionals. This is a fitting tribute to the lasting impact and influence our first female Clinical Sciences Professor has had at RCSI."
For 57 years, the RCSI Department of Clinical Microbiology has been committed to educating the next generation of doctors about sepsis, healthcare-associated infection and antimicrobial resistance and improving patient care through research into the prevention and control of healthcare-associated infections and antibiotic resistance /superbugs for better health outcomes.
Now led by Professor Fidelma Fitzpatrick, the team includes clinicians, other healthcare professionals and scientists, all of whom are actively involved in teaching, research, public engagement and advocacy, in addition to national health policy and health services leadership roles. Informed by its research and clinical activities, the RCSI Department of Clinical Microbiology contributes significantly to healthcare policy, national guidelines and national clinical programmes through membership of national and international committees.