Robotic surgery training begins at RCSI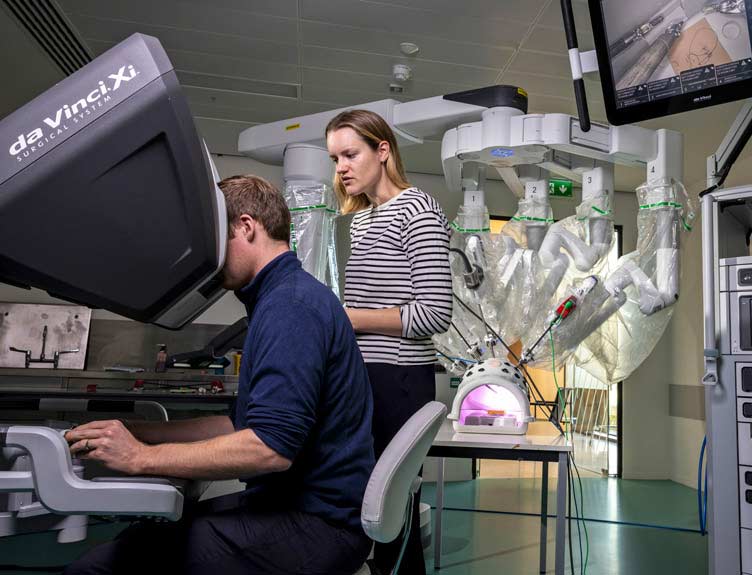 Surgical teams have taken part in RCSI's first-ever robotic-assisted surgery (RAS) training programmes, run in collaboration with Intuitive.
The programmes took place at the National Surgical and Clinical Skills Centre at RCSI and saw attendees, including nurses and theatre teams, experience hands-on training on the da Vinci Xi surgical system, provided by Intuitive, the pioneer of robotic-assisted surgery.
The inclusion of robotic training is among several innovative initiatives being introduced within RCSI's surgical training programme, aiming to enhance the surgical skills and competency training delivered for surgical trainees.
The training programme gave attendees the opportunity to better understand the handling, care, and integration of Intuitive systems, instruments, accessories and technology.
Professor Laura Viani, President, RCSI, said "This workshop marks the beginning of robotic surgical training at RCSI. The evidence shows that certain procedures will see better patient outcomes when the procedure is delivered using robotic platforms. Our goal is to further advance the availability of minimally invasive surgery by ensuring surgeons have the necessary skills. We are delighted to collaborate with Intuitive to deliver a workshop which will help equip surgical trainees with advanced technological robotic skills to meet the demands of an ever-changing surgical environment."
Kieran Ryan, Managing Director at RCSI Surgical Affairs, said: "Robotic-assisted surgery is now becoming more of a normal feature of delivering surgical care for certain procedures and over the coming years the number of these procedures will increase dramatically. Innovation is at the centre of RCSI's approach to surgical training and we are committed to working with our specialties to ensure that surgical trainees acquire the skills necessary to safely and competently use this technology.
"This workshop marked the first time that RCSI had a robotic surgery platform in our national surgical training centre. We now look forward to developing the training and education programme across specialties using this exciting technology."
David Marante, Regional Director of Intuitive, UK and Ireland, said: "With nearly 30 years of experience in bringing da Vinci robotic-assisted surgical systems to healthcare providers across the globe, we understand the vital role that training plays in any successful robotics programme. This collaboration with RCSI will allow trainee surgeons and their teams to receive the technology training needed to provide the benefits of minimally invasive surgery to patients with da Vinci technology."